6 Free Things to Do in Coronado This Summer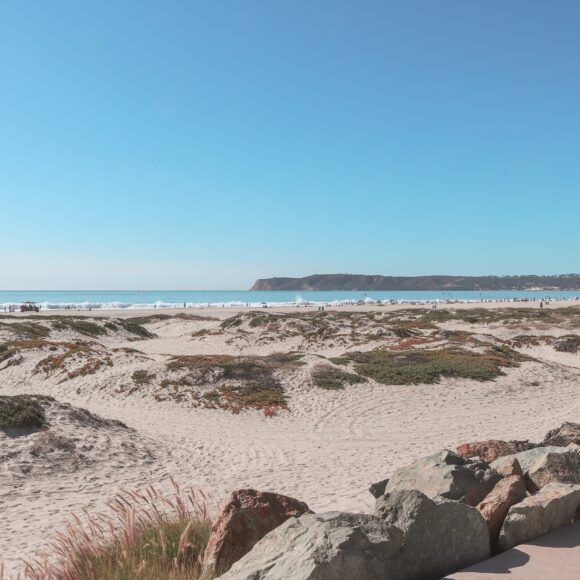 Despite its reputation as one of San Diego's ritziest seaside communities, Coronado does in fact cater to budget-minded travelers looking to make the most of their dollars. From annual events to popular attractions, this island offers an array of ways to enjoy its splendor while keeping more money in your pocket. Below is our list of free things to do in Coronado, curated especially for guests of 1906 Lodge. 
Enjoy the Coronado Summer Concert Series
Now celebrating its 50th year, the Coronado Summer Concert Series features 15 free performances over the course of five months and is one of the most anticipated Coronado events of the year. Encompassing a range of styles and genres, these concerts celebrate everything from big band swing standards to the marches of John Phillip Sousa and everything in between. 
Concerts are held in Spreckels Park, the 8-acre green space standing at Coronado's center. Musicians will be set up in the gazebo—be sure to arrive early to get a spot! Showtimes vary by performance, but tend to start between 4 p.m. and 6 p.m. For those who love live music in beautiful surroundings, this concert series is one of those free things to do in Coronado that's not to be missed. 
Get Around on the Free Summer Shuttle
Coronado may be a small, tight-knit community, but it's just big enough that seeing the whole island on foot isn't an option. Enter the Free Summer Shuttle, a yearly program that gives visitors and locals alike a way to get around without reaching for their wallets. Operating from May 27 through September 5, the shuttle stops at various points of interest in town, including Spreckels Park, Coronado Ferry Landing, landmarks, shopping, and dining. It will run from 9 a.m. to 9:30 p.m. Sunday through Thursday, and an hour later on Friday and Saturday. If you have a long list of things to do in Coronado and want to get around the most convenient way, this free shuttle is it!
Check Out the Farmer's Market 
Bursting with a palette of colors from the fresh fruits and vegetables on display, Coronado's weekly farmer's market is a (free) feast for the eyes. There's no need to spend any money to experience the market's seaside bustle. Simply roam among the stalls of fresh produce and flowers and enjoy the ample sunshine. The market takes place Tuesday afternoon from 2:30 p.m. to 6 p.m. at Coronado Ferry Landing. While you're there, browse the selection of stores found in this charming commercial district, where you can find everything from souvenirs to summer dresses. 
Stroll the Bayshore Bikeway
Looking for outdoor activities in San Diego that don't cost an arm and a leg? A stroll, jog, or bike ride along the Bayshore Bikeway allows million-dollar views without spending a cent. The bikeway starts near Coronado Ferry Landing and meanders along the shores of the bay before continuing beneath the Coronado Bridge and fringing the Coronado Municipal Golf Course. It's a great way to take in the vast beauty of the island, even if you're limited on time. If you'd like to continue your jaunt, Coronado's residential streets are bike- and pedestrian-friendly. 
Visit the Coronado Museum
High on the list of free Coronado things to do is the Coronado Museum, housed within the Coronado Historical Association's headquarters. Browse the museum's permanent and special exhibits, focusing on important people and places in Coronado's past and present. The museum galleries and its store are open from 11 a.m. to 4 p.m. Tuesday through Thursday and until 3 p.m. on Saturday and Sunday. If you're hankering for a bite to eat after your visit, get a table at the adjacent eatery, serving high-end fare on a beautiful outdoor patio.  
Take a Public Art Walking Tour
Coronado is home to an array of public art works, from sculptures and murals to fountains and panels. The Coronado Cultural Arts Commission has created a downloadable map that pinpoints some of the most notable public art landmarks throughout the island. As you hop from site to site, you'll find yourself immersed in Coronado's terrain—it's one of the best ways to see the island overall. James Hubbell's "Sea Passage" sculpture fountain is a standout, thanks to intricate tile work and a unique shape that calls to mind the swells of the ocean.   
—-
A charming, boutique hideaway close to all the best free things to do in Coronado, 1906 Lodge was named one of the top 25 most romantic hotels in the United States in TripAdvisor's 2020 Travelers' Choice Best of the Best awards. Stay with us for your next couples getaway, summer vacation, or solo trip. Enjoy a fresh, hot breakfast every morning, mimosas on the house, a complimentary Happy Hour, and fresh-baked cookies in your room. Bicycles are available to borrow, as are beach chairs, bags, umbrellas, and towels. 
Go back