Fantastic Coronado Restaurants for an Elegant Dinner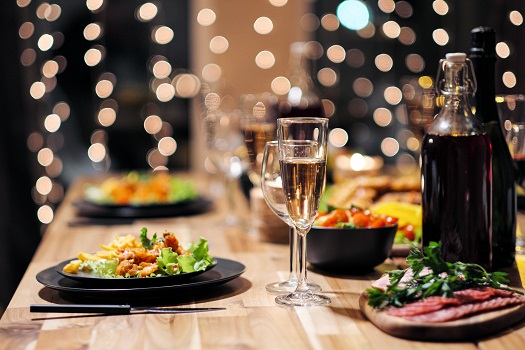 Coronado is a waterfront resort town that remains a hot spot for guests who enjoy outdoor activities, boutique shopping, and upscale accommodations. The location offers spectacular views of the bay, and there's no lack of fine dining options when you're choosing a restaurant. If you're in the mood for a fancy dinner, here are some of the top choices, recommended by the people who know the island best, the friendly staff at 1906 Lodge. Coronado Island visitors quickly fall in love with our hotel's quiet, elegant setting that's within walking distance of the island's shops, restaurants, and the world-famous Coronado Beach.
Chez Loma
This charming restaurant serves classic French cuisine in a renovated Victorian home. Eat indoors or out. For a fancy brunch get-together, start with a fruit salad accompanied by a French toasted brioche served with powdered sugar or maple syrup. Perhaps choose tacos filled with duck, filet mignon, or tuna and pico de gallo or avocado cream. Dinner options include boeuf bourguignon served with baby carrots, roasted mushrooms, and whipped potatoes or chicken coq au vin served with bacon, mushrooms, and whipped potatoes. Traditional dessert choices include crème brûlée and chocolate mousse. The venue opens daily at 5:00 p.m.
Peohe's
This waterfront venue provides guests with a selection of seafood meals prepared with the flavors of the Pacific Rim. Diners can also enjoy the sushi bar. Feast on a pupu platter for lunch consisting of a California lobster roll, shrimp cocktail, coconut shrimp, and a Thai chicken spring roll. For the main course, try the seafood Cobb salad prepared with jumbo shrimp, crab, bacon, avocado, cucumber, carrots, tomatoes, and eggs. Perhaps feast on the sesame-crusted salmon served with Szechuan vegetables, sushi rice, and peanut sauce. The chef's special lobster and shrimp orecchiette dinner includes artichoke and tomato relish along with kalamata olives topped with basil and lemon blanc wine sauce. The restaurant is open daily at 11:30 a.m. for lunch, brunch, and dinner.
Il Fornaio Restaurant
The popular Italian restaurant offers indoor and outdoor dining along with takeout and delivery for the convenience of diners. Pasta is handmade daily to provide clients with a variety of scrumptious dishes that include linguine prepared with clams, mussels, shrimp, and scallops in tomato sauce with garlic and Trebbiano wine. Perhaps feast on the paccheri alla vodka dish made with pasta tubes, bacon, vodka cream tomato sauce, and Grana Padano. Traditional meals might include Pollo Toscano, which translates to rotisserie chicken seasoned with fresh herbs and served with seasonal vegetables and roasted potatoes. The venue welcomes guests daily beginning at noon.
Stake Chophouse & Bar
This restaurant is widely known for offering a selection of meals prepared with dry-aged USDA Prime American and Japanese Wagyu beef. The restaurant also prepares fresh seafood meals. With more than 400 wine options, diners might be a little perplexed. However, the house sommeliers are on hand to create the perfect pairings. Begin the meal with a choice of chilled seafood, appetizers, or soup and salad. Satisfy your appetite with a Japanese A5 Wagyu steak accompanied by your choice of sides. Some diners might prefer the 12-ounce filet mignon. Pair a steak with a half or whole lobster. Enjoy a plate filled with steamed Alaskan King Crab legs served on watercress with bearnaise sauce and butter. The venue opens its doors daily at 5:00 p.m.
No matter what kind of cuisine you're looking for, you're sure to find a restaurant that suits your tastes perfectly on Coronado Island. If you're planning to stay on the island and want the cozy, charming feel of a Coronado Island B&B, you'll love the historic architecture and exceptional service at 1906 Lodge. To learn more about our amenities or reserve a room at our exquisite hotel, call us today at 866-435-1906.
◀ Go back