8 Fantastic Restaurants on Coronado Island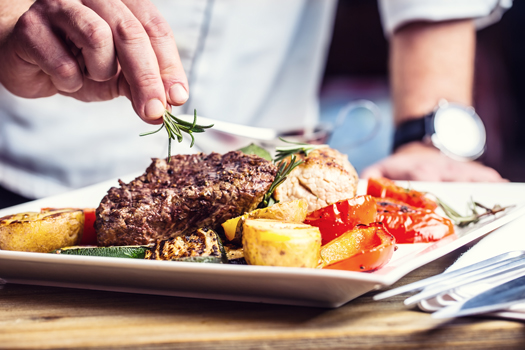 A visit to Coronado Island delivers an amazing selection of some of Southern California's best seafood, fusion cuisine, and lively brewpubs. Set against the backdrop of the Pacific Ocean, this postcard-perfect resort town is sure to satisfy any appetite. Here are some of the best restaurants to put at the top of your dining itinerary when visiting San Diego's famed Coronado Island, brought to you by the people who know the island best, the friendly staff at 1906 Lodge. Coronado Island visitors quickly fall in love with our hotel's quiet, romantic setting that's within walking distance of the island's shops, restaurants, and the world-famous Coronado Beach.
1. Serẽa
Billing itself as a premium sea-to-table dining experience, Serẽa is one of your best bets for dining on some of the region's freshest seafood. This luxurious but comfortable restaurant is located at the historic Hotel del Coronado, providing the perfect backdrop for your meal. Diners return for the sustainable seafood, fresh oysters, and delicious sides, all prepared with a Mediterranean flair.
2. Peohe's
This Chart House classic restaurant has sweeping views of the water with its location at the Coronado Ferry Landing. The menu features an extensive array of dishes inspired by Pacific Rim cuisine along with a selection of expertly prepared sushi. In addition to lunch and dinner, Peohe's also offers a weekly brunch and a happy hour.
3. Coronado Brewing Company
Sometimes you just want a nice cold beer and a simple meal. The warm and inviting décor of this pub will encourage you to stay a while. The varied menu offers something for every taste. Favorites include Spanglish fries, Cajun shrimp tacos, wood-fired pizzas, and an array of pasta dishes. The large patio is a great place to relax with a local beer while you enjoy the sunshine.
4. Chez Loma
Located in the legendary Carez Hizar House on Loma Avenue, this French-inspired bistro offers rustic fare to carry you back to the Old World. This cozy restaurant is also conveniently located within walking distance of the beach, making it easy to enjoy a sunset stroll after your delicious meal. The ingredients are sourced locally, ensuring you enjoy the best tastes of Southern California.
5. Stake Chophouse & Bar
Stake Chophouse & Bar is a traditional steakhouse with a modern spin. The premium menu includes options such as filets, chops, shellfish, salads, classic sides, and more. An award-winning wine list makes it easy to pair your meal with the best beverage to bring out the food's flavors. The downtown Coronado location makes it convenient to enjoy a night out on the town after your meal.
6. Il Fornaio
When you're in the mood for hearty Italian fare, make sure to check out Il Fornaio. This Southern California locale features authentic pasta dishes, antipasto goodness, thin-crust pizza, and loads of sweet desserts. The atmosphere at Il Fornaio is elegant without being stuffy, the perfect complement to the overall vibe of Coronado Island. 
7. Leroy's Kitchen & Lounge
This local hangout, which is within easy walking distance of Coronado Island's iconic 1906 Lodge, is a favorite of locals and tourists alike. This eatery specializes in eclectic cuisine, and because its owners are dedicated to serving only local, fresh, sustainable food, the menu changes with the seasons, providing a year-round variety of healthy, flavorful dishes. Leroy's proudly works with area suppliers, brewers, and farmers to offer every diner a distinctive farm-to-table experience. This warm, welcoming neighborhood restaurant is packed with charm, and you'll love the displays of artwork created by artists from the local community. Leroy's offers both intimate indoor dining and relaxing outdoor patio seating.
The Henry
Just steps away from Leroy's, you'll find The Henry. If you're looking for a mix of ageless Gatsbyesque sophistication and a cool coastal vibe, The Henry is the spot for you. Relax and revel in oceanside elegance on this restaurant's spacious patio or in the stylish main dining room. The Henry's airy, open dining spaces feature an eclectic fusion of classic and industrial inspiration, and the staff always makes you feel like you're right at home. After sampling its delightful cocktails, mouth-watering house made appetizers, and gourmet entrées, you'll add The Henry to your list of favorite Coronado destinations.
No matter what kind of cuisine you're looking for, you're sure to find a restaurant that suits your tastes perfectly on Coronado Island. If you're planning to stay on the island and want the cozy, charming feel of a Coronado Island B&B, you'll love the historic architecture and exceptional service at 1906 Lodge. From our bottomless mimosas to the relaxing couples massages at our spa, we can provide you with the perfect escape. To learn more about our amenities or reserve a room at our exquisite hotel, call us today at 866-435-1906.
◀ Go back