Top 5 Places for Tourists to Check Out in Coronado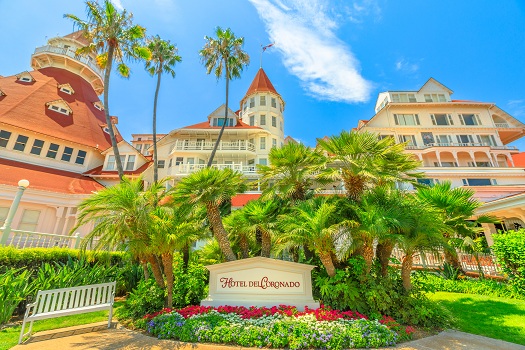 The historic community of Coronado was founded on a peninsula along California's southern coast. Visitors can easily access the unique city by driving across the mainland bridge or taking a quick ferry ride across San Diego Bay. This charming island offers plenty of fantastic places for tourists to explore, including those listed below.
1. Stop by the Hotel del Coronado
One of the island's most popular tourist destinations is the Hotel del Coronado. Tripadvisor reviewers award this iconic structure four out of five stars, and the famous hotel is easily recognizable for its Victorian-style architecture and red-and-white exterior. The Hotel del Coronado remains the second-largest wooden structure in the country. Celebrities, presidents, and many other famous people have stayed at The Del over its long and celebrated history.
Along with providing accommodations to visitors, the vast building contains shops and eateries for all to enjoy. The property also features the Ice House Museum, which gives a historic account of the hotel through various artifacts and memorabilia. The holiday season is a wonderful time to visit for the chance to enjoy the decorations and skate on the ice rink.
2. Explore Coronado by Bike
Guests might want to consider familiarizing themselves with the community by bicycle. Traditional bicycles, two- and four-seat surrey bikes, and electric bikes are available to explore Coronado, which is under eight square miles, and a paved path runs around practically the entire island. Enjoy the views of the San Diego skyline and the glorious Pacific Ocean. Explore the offerings along the mile-long Orange Avenue. Take a break and do some shopping or grab a quick bite to eat.
3. Tour the Coronado Historical Association Museum of History & Art
The museum contains a collection of permanent rotating exhibits that cover a wide selection of topics. Learn about the history of Coronado or visit during an art show. Previous exhibits have illuminated local military aviation, Coronado during WWII, and local marine history. Artifacts on display include thousands of historic photographs and original equipment related to air, land, and water transportation as well as local industries. Stroll through the galleries while enjoying the works of local artists.
4. Satisfy Your Sweet Tooth at Fuzziwig's Candy Factory
Fuzziwig's first factory opened in 1995, and today they have nearly two dozen factories spread across the United States. Fuzziwig's appeals to visitors of all ages, and it's ideal for family outings. A trip to the factory enables you to indulge your inner child by bringing you face-to-face with more than 400 types of candy. Some of the many confections for sale will no doubt trigger happy childhood memories. Skilled artisans craft chocolate treats and other delights on-site. The facility also offers unique specialty toys.
5. See a Live Performance at the Lamb's Players Theatre
This theater group has performed for local audiences for more than five decades. Today, presentations are offered in the theater or onstage at the outdoor Moonlight Amphitheater. The facility offers a wide variety of live plays, musicals, and concerts throughout the year. 
It's virtually impossible to take in all of Coronado's beauty and fun activities in just a day, so extend your stay for a few days and join us at 1906 Lodge. Coronado visitors are pampered in comfort and style at our elegant, relaxing seaside getaway. Many of the guestrooms in our charming boutique hotel feature private entrances, balconies, spa tubs, wet bars, and cozy fireplaces. Call us today at 866-435-1906 to reserve your room across the bay from America's Finest City.
◀ Go back