Great Ways Visitors Can Enjoy Their Time in Coronado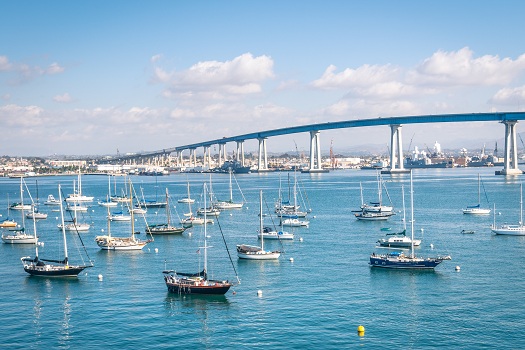 For more than a century, San Diego-adjacent Coronado has been a popular spot for both locals and visitors. If you fall into the second group and you're planning a trip to Coronado, it's safe to assume you'll want to make the most of your time here. Luckily, this can be an achievable goal if you keep in mind the tips below, offered by the friendly staff from 1906 Lodge, Coronado Island visitors' premier choice for high-quality service and maximum comfort.
Go with the Flow
Coronado is a laid-back area by nature. The best way to make the most of your time in this resort city is to have a more relaxed, go-with-the-flow approach to your visit. If you keep your travel plans fairly flexible, you'll also be in a better position to:

• Go tide pooling by the historic Hotel del Coronado and enjoy other casual activities without time constraints
• Discover things to do and explore on your own once you're here
• Take a self-guided walking tour of Coronado at your own pace without worrying about the next thing on your to-do list
Sign Up for Surfing/Paddleboarding Lessons
The waters adjacent to Coronado are gentle enough to make it easy to learn how to surf or paddleboard. If you want to give activities of this nature a try during your time here, sign up for lessons at a place like Coronado Surfing Academy. Some local businesses also offer group lessons if you'll be coming here with family members or friends who are up for learning how to hang ten or paddleboard.
Explore Dry Land with Pedal Power
Coronado has one of the most bike-friendly environments in the area thanks to the pleasant weather and flat terrain. What this can mean for you is the ability to get around town after you arrive without having to rent a car or take an Uber. Simply make your way to one of the local bike rental places, pick out a bike that appeals to you, and pedal around Coronado at your own pace.
Pick Up Something Unique on Orange Avenue
If shopping is something you like to do when you travel, make the most of your time in Coronado by biking your way to Orange Avenue, Coronado's main thoroughfare. This popular local street is home to many local shops where you'll find one-of-a-kind selections. Equally appealing neighborhood eateries are also found on this avenue.
See What Local Concerts Are Scheduled during Your Visit
Coronado hosts an annual summer concert series at Spreckels Park. If you'll be here during the summer months, check if there are any shows you may want to see in person during your visit. Other community events take place in the same area throughout the year.
Treat Yourself to Something Sweet
It should come as no surprise that Coronado is home to a wide range of highly recommended seafood restaurants. But the city also has fantastic places where you can satisfy your sweet tooth during your time here, with popular options including:

• Local favorite MooTime Creamery, where you can please your palate with homemade ice cream
• Coronado Cupcakery, which is known for its creative flavors
• Tartine, where you can enjoy sweet treats during the day before they switch over to bistro fare later in the evening
One of the best ways to enjoy your visit to Coronado Island is to stay in a hotel that's within walking distance of the beach as well as the island's variety of quaint shops and inviting restaurants. If they're looking for the ideal Coronado bed and breakfast, San Diego visitors will love the outstanding service and exceptional comfort they'll find at 1906 Lodge. Many of the guestrooms in our charming boutique hotel feature private entrances, balconies, spa tubs, wet bars, and cozy fireplaces. Call us today at 866-435-1906 to reserve your room across the bay from America's Finest City.
◀ Go back