What You Need to Know about the Coronado Beach Boardwalk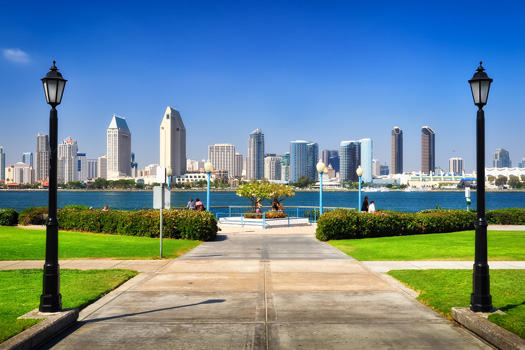 The California Dream is alive and well in the San Diego area, especially on Coronado Island and its famous Coronado Beach, where the Pacific waters attract travelers from all over the world. This bay island features a historic town and an endless number of things to see and do. If sightseeing, dining, exciting diversions, and sun, sand, and surf are your style, you should prepare yourself to be wowed by the beach boardwalk area. Here's what you need to know about the boardwalk at Coronado Beach, brought to you by the people who know the island best, the friendly staff at 1906 Lodge. Coronado visitors love our hotel's comfortable charm, and we're just a stroll away from the island's beautiful beaches, unique shops, and eclectic restaurants.
Spanning the Island
Coronado Beach regularly wins "Best Beach in America" titles, and it's easy to see why, with its golden sand and a community that welcomes one and all. However, those wishing for less sand in their shoes can opt to walk along the beach's famed boardwalk, which stretches across much of the island and provides views of San Diego Bay and the beautiful blue Pacific Ocean. You may even see Navy SEALs from the nearby naval base as they run for miles along the sandy shoreline.
Myriad of Diversions
The Coronado Beach boardwalk isn't just about sand and surf. It also provides visitors with a wealth of fun and exciting things to see and do. Many Coronado shops, stores, and businesses are easily accessible from the boardwalk, and Orange Avenue is just a few blocks away. There, the town's most intriguing shops and restaurants beckon.
Cozy Relaxation
If the lively tempo of Orange Avenue isn't your thing, feel free to enjoy Star Park, which sits near Coronado Beach and is nestled like the hub of a wagon wheel within several beach neighborhoods. Quiet, shaded areas in the park feature benches that provide a bit of relaxation before you once again set out along the boardwalk in search of more active goings-on.
Drink & Play
The beautiful thing about the Coronado Beach boardwalk area is the easy availability of dining and entertainment venues, with several dedicated to celebrating the California surfer lifestyle. Some restaurants also combine the surfer ethos and fun beach vibes to create the atmosphere of a neighborhood sports bar.
Getting There
Getting to the Coronado Beach boardwalk from San Diego is easy, especially if you're already staying in a local hotel. You can drive over the Coronado Bridge and easily find parking, or you can take the ferry from the city to the Coronado Ferry Landing, where you'll find a waterfront shopping area complete with art galleries, diverse shops, and a variety of eateries.
Strolling along the boardwalk is one of the most pleasant ways to explore Coronado Island for a day of shopping, sightseeing, and seaside fun. If they're planning to stay longer and are looking for the ideal Coronado bed and breakfast, San Diego visitors will love the outstanding service and exceptional comfort they'll find at 1906 Lodge. We're the experts on everything there is to do and enjoy while you visit Coronado, and we know how to pamper you in style at our elegant, relaxing seaside getaway. Many of the guestrooms in our charming boutique hotel feature private entrances, balconies, spa tubs, wet bars, and cozy fireplaces. Call us today at 866-435-1906 to reserve your room across the bay from America's Finest City.
◀ Go back