Great Ways to Celebrate Your Anniversary in Coronado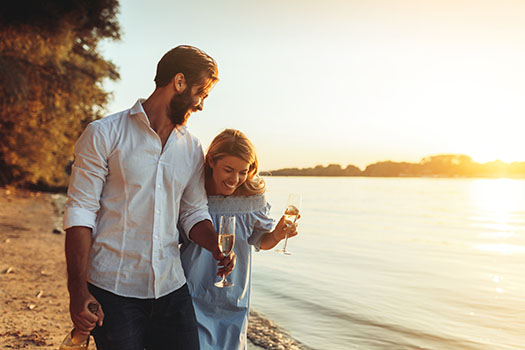 Just a 15-minute drive from San Diego, Coronado is a picturesque resort city that's just as vibrant and appealing as its not-too-distant neighbor city. It's also a perfect spot to celebrate an anniversary. If you and your partner are looking for great ways to celebrate your anniversary in Coronado, CA, check out these fantastic suggestions, brought to you by the friendly staff at 1906 Lodge. Coronado Island visitors can't help falling in love with our hotel's elegance and charm, and we're within walking distance of the island's shops, restaurants, and gorgeous beaches.
Go on a Whale Watching Cruise
Starting in December and continuing through April, there are many opportunities for whale watching cruises in the Coronado area. For instance, Flagship Cruises & Events is resuming these tours again in mid-December of 2020 with appropriate safeguards for COVID-19. Many of the cruises include dining options and other amenities ideal for couples celebrating their anniversaries.
Enjoy Dinner with Some Entertainment
Treat yourself and your sweetheart to an anniversary dinner that offers a dash of entertainment with your entrées. The Dinner Detective and the Murder Mystery Company in nearby San Diego are two restaurants that will give you a side order of mystery with your meal. Other restaurants offer magic shows and various types of performances you and your loved one can enjoy while dining.
Take a Coronado Heritage Walk
If you and your significant other want to really take in the beauty, culture, and history of this city, celebrate your anniversary by going on a heritage walk. Offered by the Museum of History and Art, these walks take you through historic Orange Avenue and Coronado neighborhoods with breathtaking scenery and grand homes.
Watch an Outdoor Movie Together
Watch a movie with your loved one at one of the outdoor movie theaters you'll find in the Coronado area. Some of them, like the Rooftop Cinema Club, offer local brews and tasty snacks. Cinema Under the Stars has a heated patio where you and your partner can relax on lounge chairs and view a mix of current releases and classic flicks.
Go on a Bike Tour
There are plenty of bike tours you and your partner can take together during your anniversary visit to Coronado. If you prefer to go at your own pace, look for the self-guided tours that allow you to simply rent bikes for the day and take your time biking along the local bike paths and bike-friendly streets.
Enjoy the Beaches
It's impossible to mention Coronado without talking about its incredible beaches. Whether you and your partner prefer to casually stroll on the sand or get active with swimming, paddleboarding, or other water-based activities, there are many beach-centered ways to celebrate your anniversary here. Coronado Beach was once named the top beach in the United States, and Silver Strand State Beach has barbecue pits and other amenities that can be part of a more casual anniversary celebration. 
No matter what kind of anniversary getaway you're looking for, you're sure to find the ideal spot in Coronado. Continue the romance after your anniversary date on the town by heading back to the privacy of your room at 1906 Lodge. From in-room spa tubs to cozy fireplaces, we offer everything you need for the perfect romantic escape. If you'd like to reserve a room at our charming boutique hotel or you need directions to Coronado Island, call us today at 866-435-1906. 
◀ Go back