Coronado Island's Rich History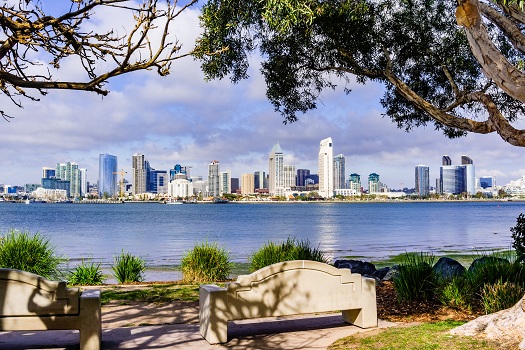 When people hear Coronado Island, they think of all its gorgeous beaches and nearly perfect weather. Coronado is a Spanish term for "crowned one," and that's where the nickname "The Crown City" comes from. This island is located in San Diego County, California.
Early History
In 1846, the modern American history of Coronado Island began when it was deeded to Pedro C. Carillo and his bride as a wedding gift from Mexican Governor Pio Pico. Then Mr. Carillo sold the land to American Bezer Simmons for $1,000 in silver. After that, the ownership of the land changed frequently until one fateful day in 1885, when the one-time purchase of Coronado Island was made by Elisha Babcock and Hampton Story for about $100,000. 
Development
Babcock and Story bought not only Coronado but also North Island and the Silver Strand. They had one goal, and that was to establish the greatest hotel ever seen on the whole Pacific Coast. These business partners had a vision for the area to be filled with parklands, hotels, and beachside residences. After the deal was finalized on November 19th, Babcock and Story gathered a barge with 40 Chinese laborers to start working on the land. James W. Reid, an architect, was hired to oversee how the land was being developed. There happened to be a lack of lumber, and they ended up having to sign contracts with the Dolbeer & Carson Lumber Company of Eureka, California. In addition, there was a need for brick and concrete. Reid would make them himself utilizing kilns. The construction of the area consisted of a street system railway, a water supply system, a dance pavilion, and even regularly scheduled free concerts.
Hotel del Coronado
In November of the following year, a lot sale took place that attracted 6,000 buyers, who bid up to $1,600. This is in large part what funded the construction of Hotel del Coronado. Tripadvisor readers know the iconic nature of this structure. The opening of the hotel, which was the largest resort at that time, took place 11 months later. In 1889, the sugar king Claus Spreckels purchased all of Coronado Beach Holdings for $500,000. Two years later, Benjamin Harrison was the first president to visit Coronado, creating a whirlwind of publicity.
Tent City
As Coronado grew over time, residents began to create Tent City, which was self-operated and attracted tourists from all over the country. In 1914, Tent City was able to attract 10,000 people, which broke previous records. This city lasted successfully for nearly 40 years until it closed in 1939.
Modern History
Other important parts of the history of Coronado are aviation and the military. In 1911, an aviation camp, later named Naval Air Station North Island, was opened by Glenn Curtis. During World War I, it was sold to the Navy for $5 million. During modern times, Coronado has become famous as a global resort getaway where famous individuals ranging from kings to Hollywood stars have visited.
If you're looking to stay in historic Coronado overnight or for a few days, join us at 1906 Lodge. Coronado visitors are pampered in style at our historic hotel, which Business Insider India named one of the 30 Best Boutique Hotels in America. Many of our guestrooms feature private entrances, balconies, spa tubs, wet bars, and cozy fireplaces. Call us today at 866-435-1906 to reserve your room across the bay from America's Finest City.
◀ Go back