Top 5 Ways to Ring in the New Year on Coronado Island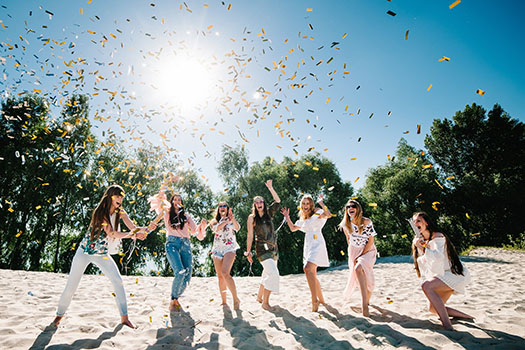 If you're thinking of visiting the Coronado area near San Diego, you're most definitely in store for a host of pleasant surprises, especially if you decide to spend New Year's Eve on the island. Here are the best ways to spend New Year's Eve in Coronado.
1. Big Bay Boom Fireworks Show
New Year's Eve just wouldn't be complete without a fantastic display of fireworks to usher in the new year, and this fireworks show doesn't disappoint. The fireworks are launched all along Shelter Island to the naval base in a fantastic display. Leave your car at the hotel to avoid the rush to leave after the show, and make sure to bring blankets and chairs, as it can get chilly this time of year. Book your reservation now at the beautiful 1906 Lodge. Coronado visitors are pampered in style at this historic hotel, which offers an amazing view of San Diego and the bay.
2. Restaurants & Fine Dining
Before you check out the fireworks display, you might want to make sure you've got a full stomach. A moderately priced option is Leroy's Kitchen and Lounge, which serves American cuisine and is located on Orange Avenue. The poke tacos and Korean BBQ pork chops are highly recommended.
If you're more into seafood, Bluewater Boathouse Seafood Grill would be right up your alley. Don't let the low prices fool you on this one either, as it's one of the highest-rated restaurants in the area. It's located on Strand Way, and the fish tacos and lobster rolls are highly recommended. 
If you're spending your New Year's Eve with that special someone, you can't go wrong with Il Fornaio. It's a bit pricier than other options, but the atmosphere couldn't be more romantic. The restaurant specializes in Italian cuisine and is located on 1st Street.
3. Nightlife
If you're looking to have a few drinks to bring in the new year, the Coronado area has you covered. The first spot to consider is ALTITUDE Sky Lounge, located at the Marriott on K Street. It's moderately priced and has a stellar view. Another nightlife location you might consider is Churchill Cigar Lounge. Here, you can relax and have a few drinks while smoking a fine tobacco product.
4. Stellar Vistas
Those who are into great views might want to head to Bayview Park, which boasts ideal views of the waterfront, making it a perfect place to view the fireworks display. It's also a family- and pet-friendly location.
5. Boat Rides
If you're the more adventurous type and want to get out on the water, you definitely want to consider The Gondola Company, which offers a variety of boat charters and is located on Grand Caribe Causeway.
Disclaimer: As of the date of this posting, restaurants and other businesses may be closed due to California's stay-at-home orders. The information above is to be provided for future reference.
If you're visiting Coronado for New Year's Eve and want to stay in a hotel with the cozy, charming feel of a Coronado Island B&B, you'll love the elegant atmosphere and exceptional service at 1906 Lodge. From our bottomless mimosas to our in-room spa tubs, we can provide you with the perfect holiday retreat that's just walking distance from Coronado's favorite destinations. To learn more about our amenities or reserve a room at our boutique hotel, call us today at 866-435-1906.
◀ Go back