5 Suggestions for a Romantic Date in Coronado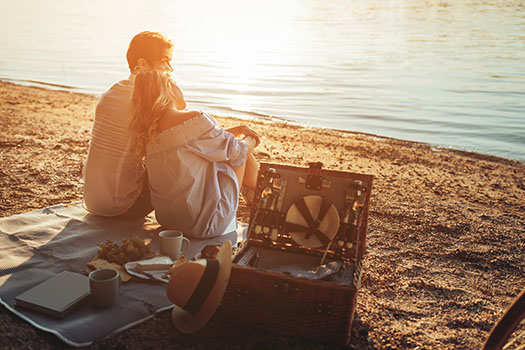 There aren't many places on earth as romantic as the island of Coronado. Known for its beautiful beaches and a widely varied collection of charming restaurants, art galleries, and specialty shops, this island city offers couples more things to do on a date night than just seeing a movie and having some drinks with a nice dinner. There's an amazing variety of things for a couple to enjoy together in Coronado. Whether you're testing the waters on a first date or having a special night out with a longtime partner, keep things interactive and exciting by considering these five Coronado date night ideas, brought to you by the welcoming staff at 1906 Lodge. Coronado Beach, an eclectic mix of quaint shops, and a variety of romantic dining options are within walking distance of our hotel, which offers all the amenities you need for a romantic, relaxing getaway. 
1. Take an Evening Boat Cruise
Book an evening cruise with your loved one and explore the many Coronado waterways. Most tour and cruise companies in the area offer several packages, each with a different experience. Charter a yacht or boat from San Diego Bay Cruises for a truly exquisite intimate dinner cruise. You can also include some add-ons to make your date more memorable and enjoyable. Many of these evening cruises, such as those provided by Flagship Cruises, also offer live music and dancing to enhance the ambience as you relax with your loved one under the glorious starlit sky.
2. Enjoy an Evening Beach Bonfire
Have an evening private bonfire on the beach, where you can relax with your significant other as you listen to the crashing waves and marvel at the vast expanse of the night sky—it doesn't get any more magical than that. You'll find quiet beaches that are ideal locations for an intimate evening with your loved one. Remember to bring some blankets and marshmallows.
3. Go on an Evening Bike Ride
Biking is popular among the locals in this Southern California city. It's also the best way to explore the island's beauty with your partner. Rent bikes from Wheel Fun Rentals and tour on your own or take advantage of a Bike & Kayak Tours' guided tour past the historic Hotel del Coronado and Glorietta Bay. With miles of paved bike paths, you can take an evening bike ride to explore the various features, scenery, and a stunning view of the sunset over the Pacific Ocean. This is one of the best ways to spend an active evening with your loved one. At 1906 Lodge, guests can enjoy perks such as complimentary bikes they can ride around Coronado.
4. Have a Candlelit Dinner
Nothing says romance like a delicious candlelit dinner by the beach. There are numerous restaurants in Coronado with amazing cuisine that will satisfy both you and your partner, no matter what your tastes may be. Coronado restaurants know how to treat you right on your date night, whether you love to indulge in delicious wine or mouth-watering meals and desserts.
5. Take a Night Beach Stroll
A hand-in-hand stroll on the beach while simply relaxing and enjoying conversation and each other's company is one of the best ways to have a nice evening date. You can watch the sunset and enjoy the panoramic view of San Diego as it comes to life.
No matter what kind of romantic getaway you're looking for, you're sure to find the ideal spot on Coronado Island. If they want the cozy, charming feel of a bed and breakfast, Coronado, CA, visitors will adore the historic architecture and exceptional service at 1906 Lodge. From bottomless mimosas to in-room spa tubs and fireplaces, we can provide you with the perfect romantic escape. Make sure to take advantage of our "You, Me, and the Sea!" experience, which is perfect for couples looking for a romantic getaway. To learn more about our amenities or reserve a room at our elegant hotel, call us today at 866-435-1906.
◀ Go back