What Should I Wear when I Visit Coronado?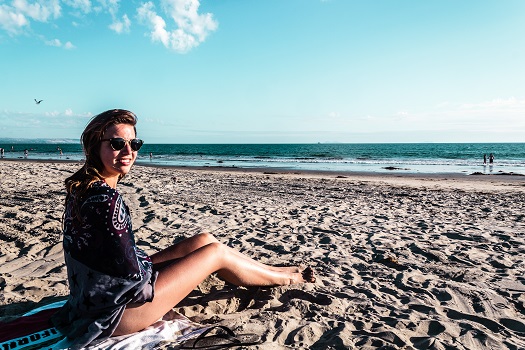 Planning a trip can be a lot of fun, thinking about what you'll see and do and the wonderful food you'll enjoy. To get the most out of your trip, you'll need to know which pieces of clothing to take with you. If you're planning a vacation to sunny Coronado Island, you'll want to bring along a few essentials. Keep reading for some great tips on what you should wear during your Coronado visit, brought to you by the people who know the island best, the friendly staff at 1906 Lodge. Coronado visitors quickly fall in love with our hotel's elegant, relaxing setting, which is within walking distance of the island's shops, restaurants, and exquisite beaches. 
Spending Time at the Beach
With more than 265 days of sunshine a year, Coronado has some of the most beautiful weather in the country, even during winter, which makes it one of the top destinations for beach lovers. Coronado Beach continually ranks at the top of the lists of America's best beaches because of its perfect water, glistening sand, and magnificent sunsets. 
If you're visiting in winter, bring shorts or casual pants you can roll up at the cuff along with comfortable shoes you can easily take off. While the water may be too cold to dive in, taking a stroll along the shore is the perfect way to enjoy a lazy afternoon or evening. Sandals or flip-flops are ideal so you can just slip them off and revel in the feeling of warm, soft sand between your toes. You'll probably find it impossible to resist dipping your toes in the Pacific, so you can carry your shoes and wade in up to your ankles while wearing shorts or rolled-up pants.
Enjoying a Day Trip 
Coronado is just across the bay from downtown San Diego, so if you decide to venture to America's Finest City and explore the area on foot or in a car, you'll want to focus on wearing clothes that keep you comfortable. 
First, be prepared by bringing along pieces you can layer. Even if it's sunny and hot outside, you might find yourself in a restaurant or shop with the air conditioning cranked up to Arctic levels. And during fall and winter, evening temperatures can dip into the 50s, so it's best to bring along a light jacket or sweater in case you need something to throw over a short-sleeved polo or t-shirt.
Above all, comfort is paramount. When you're exploring someplace new, especially an area with gorgeous weather like Southern California, you'll likely find yourself doing a lot more walking than you expected, so be kind to your feet and choose comfortable shoes that give you plenty of support.
Having a Special Night Out
If you'd like to dress up a bit for a fancy dinner or a night on the town, there are plenty of elegant places in Coronado where you can enjoy a special evening. Ladies might choose light, flowy dresses in colorful solid colors or featuring bright floral patterns. If your evening will involve time at the beach, flat strappy sandals are a perfect choice, and bring along a shawl or scarf to cover your shoulders in case you encounter a cool ocean breeze. For a gentleman, khakis and a white button-up shirt or a light linen suit makes for quite a dashing look.
Hanging Out with the Family
If you're in Coronado for a family vacation, it's all about wearing clothes that will let you have as much fun as possible. Jeans, shorts, t-shirts, and sneakers top the list. You may even want to buy matching beach-themed outfits or funny t-shirts and pose for impromptu family portraits in various spots around the island.
No matter what you're wearing, the main thing that will determine how much you enjoy your trip is how you feel. If you want peace and quiet combined with the enchanting feel of a bed and breakfast, you'll love the elegant comfort and exceptional service at 1906 Lodge. From in-room spa tubs to cozy fireplaces, we can provide you with the perfect relaxing escape. If you'd like to reserve a room at our charming boutique hotel or you need directions to Coronado Island, call us today at 866-435-1906. 
◀ Go back