Dos & Don'ts if You're Visiting Coronado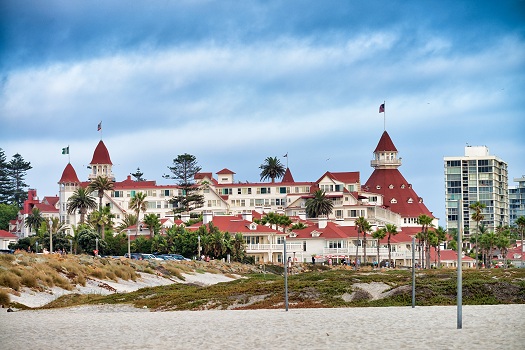 Just across the bay from San Diego is charming Coronado Island, a tranquil slice of Southern California paradise that features abundant sunshine, a laid-back vibe, rich culture, and an endless list of fun activities to keep the whole family entertained. If you're planning a trip to Coronado, this list of dos and don'ts to follow during your visit can help you make the most of your vacation on the island.
Do: Stay at a Great Hotel
Before your trip, reserve a room at a hotel that will provide the comfortable accommodations to make your trip extra special. Look for one near the beach and other popular attractions to make it easy to get everywhere you want to go. If you want to stay at a fantastic hotel near the beach, check out the beautiful 1906 Lodge. Coronado Beach visitors are pampered in style at this elegant historic hotel, which is within walking distance of the island's main restaurants and galleries as well as the world-famous Coronado Beach and Hotel del Coronado.
Don't: Miss the Chance to Learn about Coronado's Rich History
With a rich and varied history, Coronado is much more than just a seaside resort destination. After the city was incorporated in 1890, it soon became a popular vacation destination for dignitaries, celebrities, and even presidents. One of the most popular historic places of interest is the world-famous Hotel del Coronado. Built in 1888, the Del features an iconic red roof that offers just a glimpse of its Victorian architectural genius. History buffs will also enjoy a visit to the home of L. Frank Baum, the author of The Wizard of Oz, whose work was often inspired by his time on the island.
Do: Spend Time on the Beach
Of course, no visit to Coronado is complete without spending time at the shore. Nothing beats soaking up the warm SoCal sun on a pristine beach while listening to the soothing waves and letting your worries melt away. Grab your towel or beach chair and head to Coronado Central Beach, a 1.5-mile stretch of gold-flecked sand that's cradled by gentle surf. It's also located right on Ocean Boulevard, so you'll be just steps away from shops, restaurants, and plenty of opportunities for fun seaside activities. If you like to camp, swim, surf, or fish, you'll love Silver Strand State Beach, which runs along San Diego Bay and the Pacific Ocean.
Don't: Be Afraid to Try Some Water Sports
The gentle waves you'll find here make Coronado Island the perfect place to try out your skills at paddleboarding and surfing. If you're interested in learning to surf, the Coronado Surfing Academy is one of the top places to go for expert lessons, and they also provide wetsuits and surfboards. You can also schedule lessons to learn how to paddleboard.
No matter what kind of vacation experience you're looking for, you're sure to find Coronado Island is the ideal spot for fun and relaxation. For Coronado visitors who are looking for a perfect seaside getaway with the laid-back feel of a B&B, Coronado Island, San Diego is home to 1906 Lodge—the ideal vacation destination. Many of our guestrooms feature private entrances, balconies, spa tubs, wet bars, and cozy fireplaces. Call us today at 866-435-1906 to reserve your room on Coronado Island, just across the bay from America's Finest City.
◀ Go back