Pre-Travel Checklist: 8 Things to Do before You Travel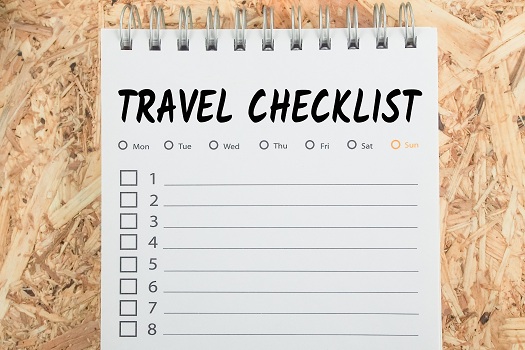 If you have plans to visit a casual, relaxed spot like the vibrant community that is Coronado, your trip can be even more enjoyable if you're not dealing with last-minute odds and ends. A simple and effective way to avoid this possibility is with a pre-travel checklist. Here are eight things you should have on this list to make your trip more memorable and less stressful, brought to you by the welcoming staff at 1906 Lodge. Coronado Beach, an eclectic mix of quaint shops, and a variety of dining options are within walking distance of our hotel, which offers all the amenities you need for a relaxing getaway.
1. Take Care of Home-Based Tasks
Before you start visualizing yourself catching some rays on the award-winning Coronado Beach or other equally delightful destinations, think about what you'll need to take care of at home before you leave. This part of your pre-travel checklist could include:

• Arranging for care for any pets you may have
• Asking someone to check on your home while you're away
• Doing basic cleaning and yard work so you won't have to dive right back into your regular routine when you get back
2. Book Your Accommodations ASAP
Once you know your travel dates, start focusing on your accommodations. This is especially important if you're going to a place like Coronado, which is a popular vacation destination throughout the year. You'll also have more options with dates if you cross this off your to-do list as quickly as possible.
3. Schedule Your Flight Just as Early
After you make your hotel reservations, schedule your flight to avoid date conflicts or other issues. Also, find out about airports that serve your destination area so you can compare rates. For Coronado, the closest airport is San Diego International Airport. Others fairly nearby include ones serving the Tijuana, Santa Ana, and Ontario/San Bernardino areas.
4. Get Your Car Checked (if You'll Be Driving)
Driving to your travel destination can be just as enjoyable, especially to places nestled along the picturesque California coast, such as Coronado. If this is what you'll be doing, get your car checked as part of your pre-travel plans so you don't have surprise breakdowns along the way.
5. See What Local Transportation Options Are Available
If you'll be flying the friendly skies to get away, see what local transportation options are available. Many areas have rideshare services these days, but go beyond the norm and see if there are any unique forms of transportation. In Coronado, many locals and visitors rent bikes or surreys to get around town. You can even rent a golf cart for this purpose.
6. Sign Up for Tours or Lessons
Being away on vacation gives you a chance to learn new things and take truly unique and memorable tours. However, it will be easier to take advantage of such excursions at times that work for you if you sign up or book online before you arrive. For instance, the Coronado Surfing Academy offers surfing lessons.
7. Talk to Your Doctor
If you have any special medical needs or medications that need refilled, check in with your doctor before you leave. On a related note, make any arrangements related to physical limitations or health issues in advance to give everyone involved time to properly prepare.
8. Look for Less "Touristy" Points of Interest
Lastly, take time before you arrive to put together a list of points of interest in and around your travel destination. As you do this, go beyond the more touristy things to make your trip even more personally rewarding. In the Coronado area, local attractions less touristy in nature include:

• Glorietta Bay Park, where you can enjoy a picnic and view downtown San Diego
• Cabrillo National Monument, which has a lighthouse and tide pool area
• The Coronado Historical Association or Coronado Museum if you enjoy diving into regional history
There's plenty to see and do in Coronado, so make your vacation plans early and reserve your room today at 1906 Lodge. For Coronado visitors who are looking for a perfect seaside getaway with luxurious amenities and the feel of a Coronado Island B&B, 1906 Lodge is the ideal destination. Many of our guestrooms feature private entrances, balconies, spa tubs, wet bars, and cozy fireplaces. Call us today at 866-435-1906 to reserve your room on Coronado Island, just across the bay from America's Finest City.
Go back