Fantastic Places to Swim in Coronado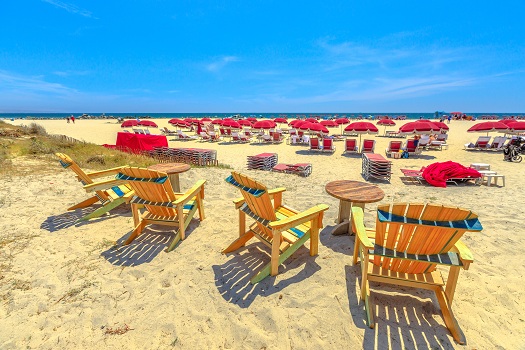 Nestled on a peninsula in San Diego Bay, Coronado is a resort city that's definitely a place where you can enjoy the water. If you have plans to swim when you visit, there are plenty of options available. Below, you'll find a rundown of some of the best places to go swimming in Coronado, brought to you by the people who know the area best, the friendly staff at 1906 Lodge. Coronado Island visitors adore our hotel's casual elegance, and we're within walking distance of the island's exquisite beaches, unique shops, and eclectic restaurants.
Coronado Beach
Starting at the iconic Hotel del Coronado and running north to Sunset Park, Coronado Beach is one of the top go-to places for swimming in Coronado. This family-friendly beach does tend to get crowded. However, there's enough space to find a prime spot to make your way into the water for a swim. Free parking can be found along nearby Ocean Boulevard.
Coronado Tidelands Park
Located next to the San Diego–Coronado Bridge entrance, this city park is home to a beautiful sandy beach. The beach itself is small, but it's a popular local spot for swimming, stand-up paddleboarding, kayaking, and other water-based activities. Free parking is available.
Silver Strand State Beach
Available to campers and day visitors, Silver Strand State Beach is easily accessible from either side of Coronado Island. After you swim, you can go for a long walk to enjoy the sunset when visiting this spacious beach. The waters are calm as well, which makes it great for swimmers of all skill levels.
Coronado Shores Beach
Also known as South Beach, Coronado Shores Beach is accessible via Avenida de la Arenas and Silver Strand Boulevard. When not swimming here, you're welcome to surf, sunbathe, or try your hand at bodyboarding. Dogs aren't permitted here, but there is free parking.
City of Coronado Aquatics Center
Found on Strand Way, this place is known for its well-kept facilities along with its friendly staff. The pool here is perfect for swimming laps. It also has a diving board you're free to use if you want to literally make a splash before you swim.
Naval Amphibious Base Pool
This lap swimming pool on Vella Lavella Road has earned rave reviews from regular visitors and users. There's also open deck space and lounges where you can relax before or after you take a dip. The deep end has a ridge step you can stand on between swims if you wish to do so.
Crown Cove
Grab your preferred swimming attire and travel across the highway to the oceanfront side of Coronado Island. Boating and water safety classes are offered at Crown Cove Aquatic Center, which is right at the cove. You can also rent stand-up paddleboards, kayaks, and other accessories if you're looking for additional activities to do here when you're ready to take a break from swimming.

No matter what kind of seaside adventure you're looking for, you're sure to find the ideal spot on Coronado Island. If you want peace and quiet within walking distance of Coronado Beach, you'll love the comfort and exceptional service at 1906 Lodge. From in-room spa tubs to cozy fireplaces, we can provide you with the perfect relaxing escape. If you'd like to reserve a room at our charming boutique hotel or you need directions to Coronado Island, call us today at 866-435-1906. 
◀ Go back