Great Ways to Enjoy Coronado in the Early Part of the Year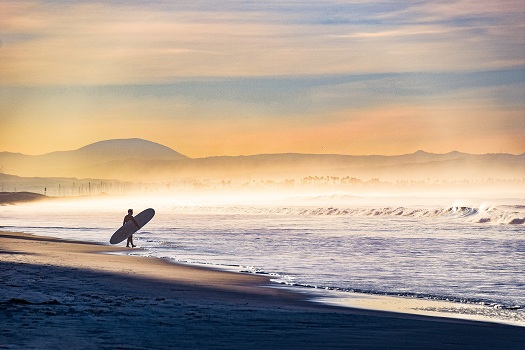 Start the new year by relaxing and enjoying the temperate climate at Coronado Island, a location that boasts small-town charm, fun, and interesting activities. Getting a head start on a tan, engaging in water sports, and taking in the sights are just some of the possibilities. Here are some great ways to start your year in Coronado, brought to you by the people who know the island best, the friendly staff at 1906 Lodge. Coronado Island visitors quickly fall in love with our hotel's elegant, romantic setting, which is within walking distance of the island's shops, restaurants, and exquisite beaches.
Play on the Beach
The beachfront extends approximately two miles along the Coronado coast. Along with relaxing under the warmth of the California sun on the powdery soft sand, beachgoers can engage in volleyball games, play Frisbee, or take a dip in the refreshing water. Explore the coastline in a kayak or on a stand-up paddleboard, or embark on one of the many water-based cruises. One particular beach location welcomes canine companions to join their owners in frolicking among the waves. Later in the day, enjoy a picnic or a cocktail and gaze upon a stunning sunset. Fire pits provide the chance to gather around a mesmerizing blaze with friends and family. Check the water for the nightly glow created by magical bioluminescent organisms.
Explore the Community
Although Coronado is less than eight square miles in size, there's much to see in the community. Stroll through the area on foot. Bicycles, electric bikes, golf carts, scooters, Segways, and surreys are available for rent to make touring the island even easier. Explore historic Orange Avenue to shop in the dozens of boutique stores and stop for a bite to eat. See the grand homes situated in local neighborhoods. Tour the iconic Hotel del Coronado, which boasts fascinating history along with being aesthetically appealing. Or just enjoy the coastal views.
Take in Local Culture
Don't miss the two-story Coronado Historical Association Museum of History and Art. Rotating exhibits within the facility cover a wide range of topics with various types of displays. Learn about members of the island's diverse population, gain insight into the evolution of filmmaking, and obtain little-known military facts. 
Venturing around town provides visitors with the chance to see more than 75 artworks created by various artists. The displays include fountains, mosaics, murals, panels, and sculptures. Coronado has a smartphone app that provides a map of all the available pieces along with information about the artists. A variety of local art galleries also welcome guests.
Unleash Your Inner Child
Whether you're visiting Coronado with family or simply want to step back into a magical time, the community has locations that appeal to the innocence of youth. Check out Fuzziwig's Candy Factory, which has more than 400 types of candy to choose from. Colorful displays include unique specialty toys and stuffed animals. Geppetto's Toys is another popular hot spot for young and old alike, and it's the ideal place to find the perfect gift for a favorite younger person. Make a point of heading to the Hotel del Coronado to indulge in a sweet treat at MooTime and find a new favorite ice cream flavor served in a handmade waffle cone.
No matter what kind of vacation experience you're looking for, you're sure to find Coronado Island is the ideal spot for fun and relaxation. If you want peace and quiet combined with the enchanting feel of a bed and breakfast, you'll love the elegant comfort and exceptional service at 1906 Lodge. From in-room spa tubs to cozy fireplaces, we can provide you with the perfect relaxing escape. If you'd like to reserve a room at our charming boutique hotel or you need directions to Coronado Island, call us today at 866-435-1906. 
◀ Go back