6 Fantastic Ways to Have a Daytime Date in Coronado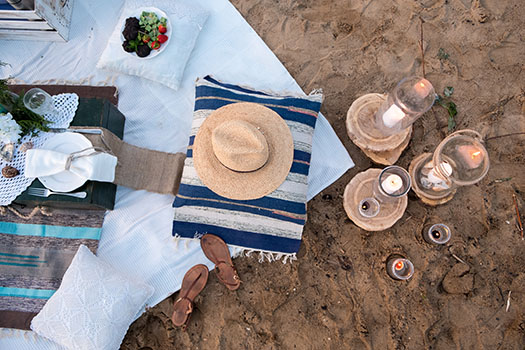 The Pacific slice of paradise known as Coronado, CA, is certainly a special place worth visiting and exploring, so it should come as no surprise that it's also a great place to have a date with a special someone. But you don't have to limit your options to when the sun goes down. Here are six daytime date ideas to consider in Coronado and nearby areas.
1. Have a Picnic at Coronado Central Beach
This 1.5-mile sandy beach is a perfect spot for a romantic daytime date in Coronado. Just bring an umbrella to plant in your preferred spot, some beach towels, and a picnic cooler, and you and your date should be all set. Silver Strand State Beach is another gorgeous beach that's equally picnic-worthy.
2. Go on a Coronado Island Walking Tour
The Coronado Historical Association hosts tours that include historic destinations and other places of interest. This is a great way for you and your date to spend some quality time together while casually taking in the sights. You can also design your own walking tour by planning ahead and picking out what you want to see with your special someone.
3. Enjoy a Sweet Treat Together
Going on a daytime date in Coronado means you don't have to put the emphasis on dining options. What you can do instead is steer yourself and your date toward some popular spots to get a little nibble in here and there. Take a leisurely stroll through the Coronado Farmers' Market, and if you and your date are amenable to sweets, take a trip to the MooTime Creamery or go to the Ferry Landing to savor the offerings at the Coronado Cupcakery.
4. Spend the Day on the Water
If you and your date are on the adventurous side, Coronado is the perfect place to go on a daytime date. One possibility is to rent a boat for the day so you can get some alone time while taking in the panoramic views here. Kayaks and stand-up paddleboards can also be rented, or you can opt to get motorized on your daytime date and rent some jet skis.
5. Take in the Local Flavor at an Area Café
If you prefer to include a more substantial meal as part of your daytime date, consider heading to one of the local cafés in the Coronado/San Diego area. Many of them are nestled in charming neighborhoods where you can go for an after-meal walk to continue your date if you choose to do so.

Recommendations based on local reviews include:

• Tartine for scones and quiche
• Clayton's Coffee Shop for tasty pancakes and other breakfast treats for dates earlier in the day
6. Go on a Golf Date
Book a tee time in advance and visit the bayfront Coronado Golf Course for a daytime date in Coronado. There are clubhouse dining options available here as well, so you can conveniently include a meal as part of your golf date when you're not on the course.
Keep the romance alive well into the evening and head back to the comfort and elegance of your room at 1906 Lodge, Coronado visitors' top choice for a romantic, peaceful getaway. We can provide you with all the amenities you need for the perfect romantic escape, from bottomless mimosas to your own in-room spa tub and fireplace. Make your reservation today by calling 866-435-1906.
◀ Go back