What's Fun for Different Age Groups to Do in Coronado?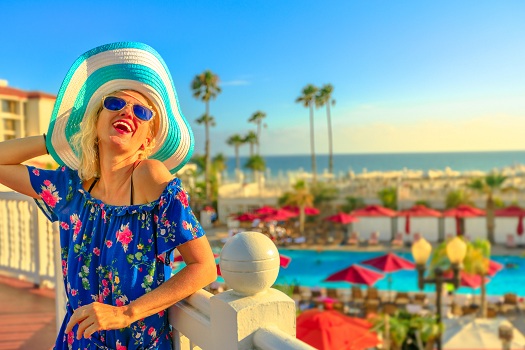 Coronado Island, a magnificent Southern California spot just across the bay from San Diego, offers a huge variety of activities to keep visitors of all ages entertained. From beaches to museums, incredible skyline views, and stunning sunsets, Coronado offers an endless list of exciting things to do. Keep reading for some fantastic ways different age groups can enjoy Coronado
Kids
Of course, kids love the beach, and Coronado has the most gorgeous child-friendly beaches in Southern California. With more than four miles of sand, there's plenty of space for kids to build sandcastles, run around, and play. 
Coronado also has delightful playgrounds and parks. One of the most popular, Tidelands Park, is perfectly suited for toddlers, featuring plenty of space and a playground. Spreckels Park is the ideal choice if you're looking for a spot for an afternoon family outing. It offers a spacious playground for children, and there are large grassy areas where you can spread out and have a relaxed family picnic.
If your kids are a bit older and enjoy water-based activities, they might want to try kayaking or paddleboarding. There are several places along the beachfront where you can rent kayaks, paddleboards, and life jackets for the whole family. There are even double kayaks for parents and kids to enjoy the ocean together.
Teens
Coronado's shimmering sea and white sands give teens the chance to sunbathe, surf, hunt for seashells, or simply chill. Paddleboarding offers teenagers a fun way to get out in the ocean and enjoy some exercise. You can rent boards and paddles at various spots near the beach, and your teens will be able to take in the breathtaking sights and sounds of the Pacific while burning off some energy.
If your teens are interested in learning how to surf, Coronado has everything they'll need. Coronado Surfing Academy is located just a few steps away from the Hotel del Coronado, and professional instructors can help them fulfill their wildest surfing dreams. 
Young & Middle-Aged Adults
Coronado's terrain is flat, which makes it ideal for exploring the island on bicycles. Various types of bikes are available to rent in Coronado, including surrey bikes. You can cruise along the beach as you take in the magnificent seascapes, and make sure to check out nearby popular bike paths like Silver Strand and Bayshore. 
If you're in a more adventurous mood, try a fun water sport. Kayaking, jet skiing, and paddleboarding are some of the popular options for people who are looking to explore the bay. 
Couples looking for a little romance will find endless opportunities in Coronado. Take an evening cruise and explore the Coronado waterways or enjoy a delicious candlelit dinner overlooking the beach. Strolling hand in hand along the sand while simply relaxing and enjoying each other's company is also one of the best ways to enjoy Coronado with your sweetheart.
Seniors
Seniors will love visiting and learning about the history of the classic Hotel del Coronado. Tripadvisor reviewers award this iconic structure four out of five stars. The grand old hotel, which recently celebrated its 125th anniversary, draws locals and visitors alike for shopping, dinner, ice cream, and its famous Sunday brunch. 
Older adults can also enjoy soaking up history and culture at the Coronado Museum of History and Art, which is located in the downtown area in the Historical Association building. Seniors will love learning about Coronado's colorful history, especially its connection to aviation and the military. Visitors can browse for souvenirs at the museum's store and dine at its charming cafe. 
No matter what age group you fall into, there's so much to enjoy in Coronado that you won't be able to do everything you want to do in just one day, so reserve a room for a night or two at 1906 Lodge. Coronado Island guests will be amazed at our array of elegant amenities and the stunning beauty of our meticulously restored historic building. Our staff is dedicated to making your experience memorable, so call us to reserve your room today at 866-435-1906.
◀ Go back