Top 6 Ways to Make Valentine's Day Special on Coronado Island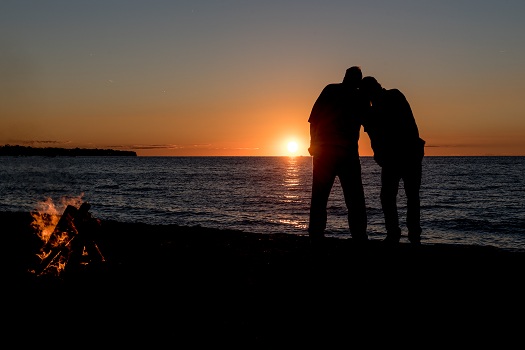 Looking to wow your special someone on Valentine's Day this year? Coronado Island is the perfect location for romance. Just across the bay from San Diego, the island's beautiful beaches, gentle surf, and charm-filled city provide the perfect backdrop for a day of love. Whether you prefer an active day or one with a more relaxed vibe, here are six fantastic ways to spend your Valentine's Day in Coronado, brought to you by the people who know the island best, the friendly staff at 1906 Lodge. Coronado Island visitors quickly fall in love with our hotel's elegant, romantic setting, which is within walking distance of the island's beaches, shops, and restaurants.
1. Go on a Bicycle Excursion around the Island
The Bayshore Trail and the Coronado Bike Trail take you around Coronado Island on a six-mile path. With mostly flat surfaces, these trails are perfect for all levels of bike riders. You can rent bikes downtown or along the boardwalk. When you need to refuel, grab a cup of java from Clayton's Coffee Shop or one of the cafés along your trek.
2. Engage in Some Retail Therapy
Coronado Island is the perfect place to casually stroll hand in hand as you check out its eclectic mix of unique and upscale shops. You can begin by hitting Coronado's main drag on Orange Avenue. Make sure to check out MooTime Creamery when you're craving something sweet. When you're ready to move on, head over to the Coronado Ferry Landing. There, you'll discover a collection of more than 20 shops, art galleries, and restaurants complete with striking views of the San Diego skyline.
3. Take a Food Tour
If you and your sweetheart are passionate about food, a culinary walking tour around Coronado will surely satisfy your appetites. The Coronado Food Tour offers a three-hour excursion where you can hear about the history and culture of the area while tasting some of the best food Coronado has to offer.
4. Relax
Coronado is ideal for rolling out your picnic blanket and taking in all the beautiful scenery. Centennial Park, located next to the ferry landing, offers a stunning view of the San Diego skyline. If you like the beach, check out Coronado Tidelands Park, with its dedicated picnic areas, small beach, and scenic view of the Coronado Bridge. Stock up your picnic basket with artisanal cheeses and gourmet sandwiches from Boney's Bayside Market.
5. Go on a Private Gondola Ride
Experience a touch of Italy in Southern California with an authentic Venetian gondola ride through the canals and waterways of Coronado Cays. This 50-minute cruise comes complete with accordion music in the background and breathtaking views. Check out The Gondola Company for their special Valentine's Day packages.
6. Have a Bonfire on the Beach
Coronado has several fire pits that are free to the public and perfect for romance under the stars. Gather around the fire with your love, snuggle under a blanket, roast some s'mores, and take in the sunset.
No matter what time of year you're looking for a romantic getaway, you're sure to find the ideal spot on Coronado Island. If they want the cozy, charming feel of a bed and breakfast, Coronado, CA, visitors will love the historic architecture and exceptional service at 1906 Lodge. From our bottomless mimosas to our in-room spa tubs, we can provide you with the perfect romantic escape. To learn more about our amenities or reserve a room at our elegant hotel, call us today at 866-435-1906
◀ Go back