Fantastic Kids Free San Diego Month Activities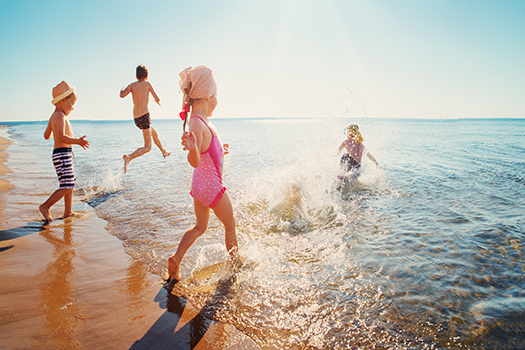 San Diego and Coronado are gearing up for Kids Free San Diego Month in October. Things might be a little different this year, but there are no fewer freebies for kids than any preceding year. In fact, many of the popular activities that were free last year are free again this year.
Kids Ride Free with Bike & Kayak Tours Coronado
With its unique position in San Diego Bay, Coronado is able to offer ocean and island activities for kids to enjoy. Most popular among these activities are the free bike and kayak tours. The bike tours provide kids with bikes to ride at no cost when they're accompanied by paying adults. The same goes for the kayak tours, which are even more popular because kids learn how to kayak safely prior to taking their free tours. While they may not be free, Coronado golf cart rentals also offer a fun way to cruise around the island like a local.
Kids Experience Free Gondola Rides through Coronado Cays
You don't have to take the kids to Italy or Las Vegas to experience a gondola ride. The Gondola Company of Coronado features free rides for children in October. Up to four kids for every paying adult couple can ride. Sunset is the best and most popular time as each gondola slowly slips through the water with the beautiful sunset coloring the sea. Kids may be able to spot seals, whales, and other ocean animals during their free gondola rides.
Kids Eat Free, Too
The trouble with trying to budget for a family vacation is planning for how much your kids eat! That isn't a problem when you visit San Diego during Kids Free Month. Many of the city's and neighboring island's restaurants are offering free meals to kids when parents pay to dine. Your only challenge is trying to pick which restaurant you'll dine at. A full guide to participating restaurants can be found on the city's website.
Don't Forget the Zoo
The San Diego Zoo is one of the best in the world. If you're coming to San Diego, you have to spend at least one day at this zoo. If you stay in October during Kids Free Month, your children will get free admission with a paid adult ticket. It's worth it, too, since there are so many exotic animals and ocean creatures here that the kids won't see anywhere else.
When you come to San Diego to enjoy the sun, sand, and great deals in October, make your reservation now for a room at the iconic 1906 Lodge. Coronado Beach, the world-famous San Diego Zoo, and a wealth of fun, unforgettable adventures are just waiting for your family to enjoy. Call one of our friendly staff members today at 866-435-1906.
◀ Go back