5 Things You May Not Know about Coronado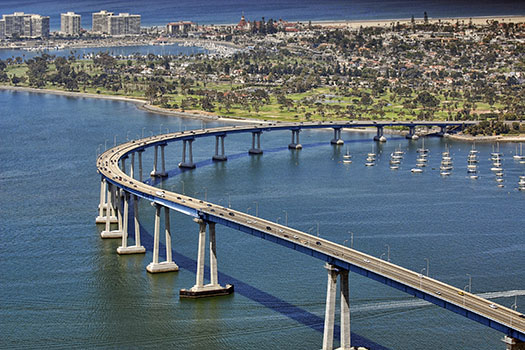 The resort island town of Coronado is a scenic spot in San Diego, California. Its location across the bay from downtown San Diego makes it an attractive tourist destination. Here are five interesting facts you probably didn't know about this island city.
1. It Has Important Historical Significance
While you're visiting the scenic resort island, you can head over to the Coronado Historical Association and Museum to learn about the island's history. In Coronado, many important events and developments in naval and aeronautical innovations took place, beginning in World War I. Photographs, artworks, military equipment, and other artifacts will provide visitors with a sense of the historical impact of Coronado.
2. Stunning Sandcastles Line the Beach
Coronado is the home of one of the most famous sandcastle artists in the country, known as "The Sandcastle Man." You might have seen some of the work of Bill Pavlacka on the Travel Channel. His beach creations are stunning in their size, detail, and realism. Pavlacka often camps out on the shore and creates new artworks on a daily basis.
3. The Beach Is Ideal for Running Enthusiasts
If running or jogging is a hobby you enjoy, the coastline of Coronado has a popular strip you should check out. If you get up early enough and head over to Silver Strand State Beach, you're likely to encounter some of the Navy's service members participating in their daily workouts. If aquatic activities are more your style, you could rent a stand-up paddleboard to traverse the tranquil waters of the local marina. If you're looking to stay overnight or for a few days, check out the beautiful 1906 Lodge. Coronado visitors are pampered in style at this historic hotel, which Business Insider India named one of the 30 Best Boutique Hotels in America.
4. There's a Great Brewery in Town
San Diego is a well-known spot for craft brewery enthusiasts, and Coronado has its own flavors for beer lovers to sample. The Coronado Brewing Company is one of dozens of fine establishments in the San Diego area for people who want to fulfill their craving for suds. This brewery is a favorite destination for local Navy personnel, and it's a place where you can enjoy a hearty lunch and an ice-cold mug of beer.
5. It Was the Home of Frank Baum
The creator of the Land of Oz series of books had a residence on the island of Coronado, and it's a popular tourist destination for people who are out seeing the sights. Starting in 1904, the Oz author began to make frequent trips to stay at hotels in Coronado while he worked on his books. Baum purchased the house after he completed the popular Oz trilogy in 1910. The blue-and-yellow home in Star Park Circle is relatively humble compared to some of the nearby mansions, but this gives it an ambiance reminiscent of Dorothy's family's modest home.
If you're visiting the island and want the cozy, charming feel of a Coronado Island B&B, you'll love the elegant atmosphere and exceptional service at 1906 Lodge. From our bottomless mimosas to our in-room spa tubs, we can provide you with the perfect relaxing retreat just walking distance from Coronado's favorite destinations. To learn more about our amenities or reserve a room at our boutique hotel, call us today at 866-435-1906.
◀ Go back