5 Travel Mistakes You Don't Want to Make when Coming to Coronado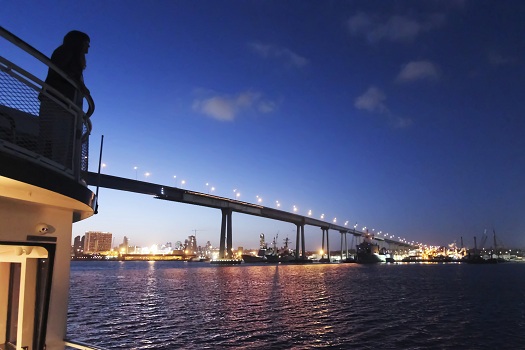 If you're visiting the San Diego area, you may want to consider staying in Coronado. Located just across the bay from San Diego, Coronado is a resort city with a rich history, and it offers tourists a quieter, more laid-back way of life. When you head to this gorgeous vacation spot, you'll want to make sure you avoid these travel mistakes.
1. Assuming Coronado Is an Actual Island
Many people call the city Coronado Island, and that's not entirely accurate. It's actually a tied island, which means it's connected to the California mainland by a sliver of land. In this case, that sliver of land is called the Silver Strand, and it's seven miles long. Why is this important? Some say getting to Coronado is half the fun of visiting.

There are two ways to get to Coronado other than coming in from the Strand: by ferry or via the San Diego-Coronado Bridge. When possible, take the bridge. At its peak, it's 200 feet tall, and driving over it makes you feel like you're driving through the clouds. It also offers an amazing view of the San Diego skyline. Take a drive on the bridge after sunset and watch how the lights from the city reflect off the water of the bay.
2. Spending Just a Day in the City
You can spend just a day in Coronado, but you'll leave thinking it wasn't enough. Many people choose to spend an entire week here soaking up the charming, relaxing atmosphere. Beaches, parks, historic sites, seafood eateries, quaint shops—there's so much to do and see that you can't possibly enjoy it all in only a single day. 
3. Deciding Not to Visit the Beach
Coronado's beaches have been named some of the best in the United States, so when you visit, make sure you plan at least one day to check them out. The beautiful year-round weather makes them even more enjoyable. Coronado Beach is wide, flat, and clean, with picturesque sand and several restaurants within walking distance. Silver Strand State Beach runs along both the Pacific Ocean and San Diego Bay, and it's popular with campers, swimmers, surfers, and people who love to fish. 
If you're looking to stay near the beach for a night or a few days, check out the beautiful 1906 Lodge. Coronado Beach visitors are pampered in style at this romantic historic hotel, which is within walking distance of the island's main restaurants and galleries as well as the world-famous Coronado Beach and Hotel Del Coronado.
4. Not Soaking up the City's History
Coronado isn't just a resort city. It has a rich history that dates back several centuries. A group of men purchased the land in the late 1800s, and in 1888, the Hotel del Coronado was built. The city was incorporated in 1890. Not long after, it became a major vacation destination for celebrities and dignitaries. Even if you aren't staying at the Hotel del Coronado, you may want to take a tour of the iconic resort when you're in town. You can also ride by L. Frank Baum's old house—he's the author of The Wizard of Oz. Much of his writing was inspired by his time spent in Coronado.
5. Forgetting Your Extra Spending Money
Last but not least, don't come to Coronado without a little extra cash in your pocket, and make sure to take some time to stroll down Orange Avenue. This mile-long street looks like it was plucked from a storybook, and it's adorned with adorable cafés and shops where you can find everything from souvenirs to a whole new wardrobe.
For Coronado visitors who are looking for a perfect seaside getaway with the laid-back feel of a B&B, Coronado Island, San Diego is home to 1906 Lodge—the ideal vacation destination. Many of our guestrooms feature private entrances, balconies, spa tubs, wet bars, and cozy fireplaces. Call us today at 866-435-1906 to reserve your room on Coronado Island, just across the bay from America's Finest City.
◀ Go back