Tips for Staying Organized while You Travel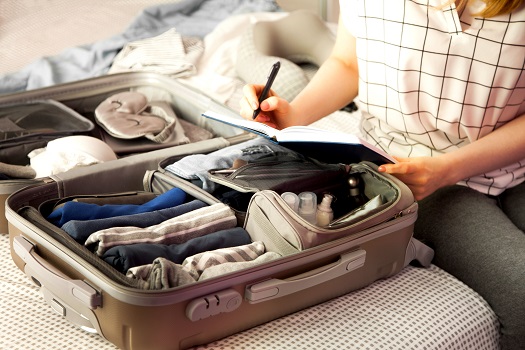 Traveling, even to sunny coastal destinations like Coronado, CA, can be a bit stressful as you get ready and finalize your plans. However, the right approach to organization, planning, and preparation can ease your stress so you can shift over to worry-free vacation mode. Keep reading for some recommendations for simple things you can do to stay organized when traveling, brought to you by the friendly staff at 1906 Lodge. Coronado Island visitors quickly fall in love with our hotel's elegant, romantic setting, which is within walking distance of the island's shops, restaurants, and exquisite beaches.
Put Together a General Travel Itinerary
You don't need to plan out every single detail of what you'll be doing when you get to your destination. Still, it can be helpful to have a general idea of things you'll want to see, visit, and do. Putting together a general to-do list also gives you a chance to take care of anything that may require advance booking, such as a local wine tour. Include details about your flight and hotel accommodations with your itinerary as well for added convenience. Have both a handwritten copy of your itinerary and an electronic one that's accessible from your devices.
Confirm Everything
Another common source of travel stress is surprise issues with flights and reservations. Even if you're fairly certain everything is taken care of in this area, double-check to make sure this is the case before you leave. You don't want to arrive at the airport or your Coronado Island B&B and discover anything unexpected with your reservations or booked dates.
Make a Packing List
Realizing you forgot something important can also make traveling a bit stressful at times. Once you've determined where you'll be going and what you'll likely be doing, make a list of things you'll need to pack. In addition to clothing and accessories appropriate for the weather or season, make sure to include:

• Any medications you regularly take
• Devices and chargers
• Comfortable shoes
• Vaccination information for places where it's required
Use Handy Packing Organizers
Figuring out how to get clothes, jackets, and other stuff you want to bring with you into bags and suitcases can be stressful, especially if you'll be traveling by plane. Eliminate this particular source of travel stress by using packing organizers. These could include:

• Packing cubes
• Jewelry and makeup organizers
• Tech-based travel cases for your phones, laptops, tablets, etc.
• Travel document organizers
Unpack when You Arrive
If you'll only be staying for a day or so, it's fine to primarily live out of your suitcase. For longer stays, go ahead and unpack when you arrive. This just makes it easier to find stuff, and you'll feel more at home, too.

If you're traveling to gorgeous Southern California and you're looking for a perfect seaside getaway with luxurious amenities and the feel of a Coronado Island B&B, 1906 Lodge is the ideal destination. Many of our guestrooms feature private entrances, balconies, spa tubs, wet bars, and cozy fireplaces. Call us today at 866-435-1906 to reserve your room on Coronado Island, just across the bay from America's Finest City.
◀ Go back