Why Is a Vacation in Coronado Worth Taking?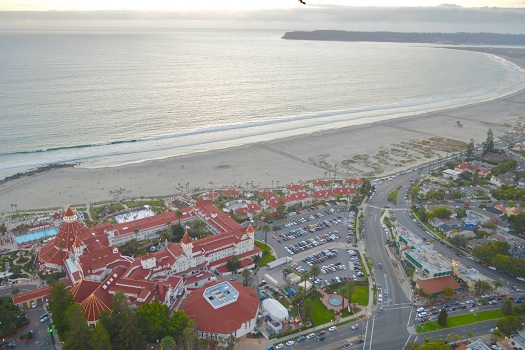 Getting to Coronado is easy, given its close proximity to San Diego. It's a pleasing peninsula in its own right as well and definitely worth traveling to if you're looking for a laid-back coastal destination where sunshine is in abundance. For even more of an incentive to start planning your visit to Coronado, take a moment to discover what makes traveling here so appealing and personally satisfying. The friendly staff from 1906 Lodge, Coronado Beach visitors' leading choice for ultimate comfort and high-quality service, suggest some great reasons why Coronado is worth visiting.
Historic Attractions
Featured in the classic film Some Like It Hot, the Hotel del Coronado isn't the only location in Coronado boasting an impressive history. If you have an appreciation for history, you'll also appreciate the L. Frank Baum House and other historic homes and attractions throughout the area.
Fantastic Food
From perfect pancakes and scrumptious seafood dishes to handmade ice cream and fresh java served with tasty nibbles, there's no shortage of dining options in Coronado. It's also not difficult to find uniquely flavored dishes, Pacific Rim–inspired offerings, tangy tacos, chicken waffles, and just about anything else that appeals to your palate.
An Award-Winning Beach
The sand literally sparkles at Coronado Central Beach, the popular beach located by the Hotel del Coronado. It's a great place for families, sunbathers, swimmers, beachcombers, and anyone with an appreciation for water, sand, and sunshine. The Crown City is also home to Silver Strand State Beach and other appealing beaches.
If you're looking to stay near the beach for a night or a few days, check out the beautiful 1906 Lodge. Coronado Beach visitors are pampered in style at this romantic historic hotel, which is within walking distance of the island's main restaurants and galleries as well as the world-famous Coronado Beach and Hotel del Coronado.
A Happening Bar Scene
House brews and regional craft beers are among the grown-up beverages you're free to enjoy during a visit to Coronado. Popular spots like Coronado Brewing Company go even further with menus that include steak dishes, bacon burgers, and pasta. If you prefer live music with your frosty ale, McP's Irish Pub is one of the many local bars to check out during your visit.
Bikes & Other Fun Ways to Get Around
Traveling to Coronado gives you plenty of local transportation possibilities to consider. During your stay, you can conveniently rent bikes and surreys to get around town. You'll have just as many options with water-based modes of transportation, thanks to the many local shops where you can rent boats, kayaks, and other water-based accessories.
Pleasant Weather All Year Long
It rarely gets too hot or cold in Coronado, regardless of the time of year we're talking about. Even in January and February, average highs are in the mid to upper 60s, and lows are always above freezing. Due to the island's proximity to the Pacific Ocean, humidity is usually kept in check here, too.
More To-Do Options in Nearby San Diego
One other reason traveling to Coronado is absolutely worth it is because of its proximity to San Diego. With Coronado as your base, you'll have access to a bustling big-city coastal destination right next door, so you'll have even more things to do, see, taste, and enjoy during your stay!
For Coronado visitors who are looking for a perfect seaside getaway with comfortable amenities similar to a B&B, Coronado Island, San Diego is home to 1906 Lodge—the ideal destination. Many of our guestrooms feature private entrances, balconies, spa tubs, wet bars, and cozy fireplaces. Call us today at 866-435-1906 to reserve your room on Coronado Island, just across the bay from America's Finest City.
◀ Go back