Why Should I Visit Coronado Island?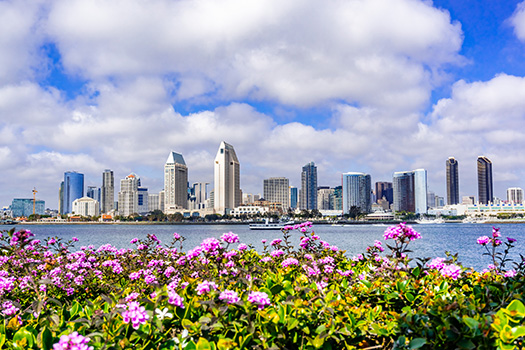 Located just over the bridge from San Diego, you'll find charming Coronado Island. This tranquil piece of heaven in Southern California is flush with brilliant sunshine, countless sunbathing opportunities, and myriad activities to keep you busy. Here are a few reasons you need to make Coronado Island a must-see destination while visiting the San Diego area.
Amazing Stretches of Sand
Clearly, Coronado Island's greatest selling point is its amazing beaches. There's nothing quite like digging your toes into the sand while you soak up the warm California sun. Start your beach tour with a visit to the popular Coronado Central Beach. This 1.5-mile stretch of paradise is famous for its gold-flecked sand and gentle surf. Located along Ocean Boulevard, it's also right in the middle of all the action. 
If you're looking to stay near the beach for a night or a few days, check out the beautiful 1906 Lodge. Coronado Beach visitors are pampered in style at this romantic historic hotel, which is within walking distance of the island's main restaurants and galleries as well as the world-famous Coronado Beach and Hotel Del Coronado.
Historic Sites
You cannot visit this island without a stop at the historic Hotel del Coronado. Built in 1888, the hotel features an iconic red roof that's just the beginning of the Victorian architectural brilliance of this full-service resort. The lovely Sacred Heart Catholic Church also deserves a spot on your itinerary. History enthusiasts will appreciate the Vietnam Unit Memorial Monument.
Laid-Back Vibe
People continue to come back to Coronado Island for its laid-back vibe and friendly locals. It's easy to leave your troubles behind once you cross the bridge and arrive at this island paradise. Coronado is the perfect escape from the busy city, delivering a respite from the rigors of life. You'll feel your worries melt away as you take in the sunset over the stunning Pacific Ocean. 
Delicious Food & Drink
Foodies will appreciate the bevy of food and drink options to be found in Coronado. Begin your indulgence with trying all the area's fresh seafood options. Popular spots for the day's catch include Serẽa and Saiko Sushi. The San Diego area is also known for its authentic Mexican food. Make sure to check out Miguel's Cocina for mouth-watering margaritas and all of your Mexican food favorites. Tourists and locals alike love visiting MooTime Creamery at the Hotel del Coronado. The Coronado Brew Pub is a great place to connect with locals and have a great time with a cold beer.
Abundance of Outdoor Activities
Outdoor recreation lovers will delight in all the opportunities to get outside and move their bodies in the sunshine. There's no shortage of exciting outdoor activities to enjoy while visiting Coronado Island. In addition to simply frolicking in the sand and surf, you can enjoy kiteboarding, parasailing, running along the vast network of trails, boogie boarding, biking, and playing sand volleyball. 
For Coronado visitors who are looking for a perfect seaside getaway with comfortable amenities similar to a B&B, Coronado Island, San Diego is home to 1906 Lodge—the ideal destination. Many of our guestrooms feature private entrances, balconies, spa tubs, wet bars, and cozy fireplaces. Call us today at 866-435-1906 to reserve your room on Coronado Island, just across the bay from America's Finest City.
◀ Go back