Springtime Cheesecake Parfait Recipe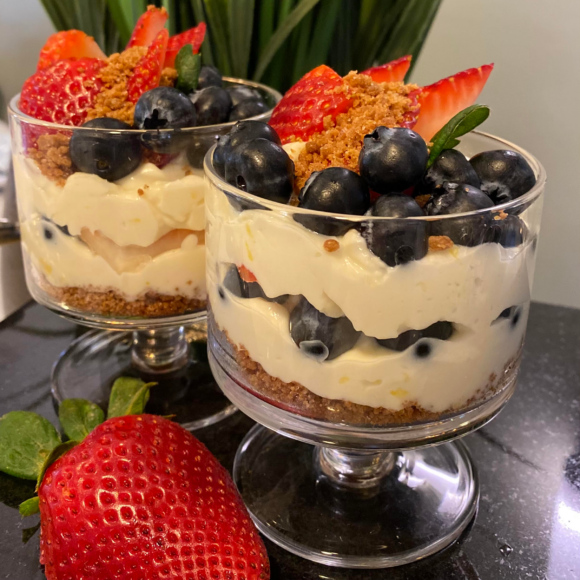 Springtime No-Bake Cheesecake Parfait
Our guests love this springtime special. Everyone loves a good Parfait, in the famous words of Donkey from Shrek: "You know what ELSE everybody likes? Parfaits! Have you ever met a person, you say, "Let's get some parfait," they say, "Hell no, I don't like no parfait."? Parfaits are delicious!"
We are happy to share this simple recipe with you, our treasured guests.
Ingredients
10 graham crackers crushed

3 T unsalted butter, melted 

2 tablespoons sugar

16 oz Mascarpone at room temperature

1 14-ounce can (1 1/4 cups) sweetened condensed milk

1/4 cup fresh lemon juice + the zest of one lemon

1 teaspoon vanilla extract

Berries such as strawberries, raspberries or blueberries
Instructions
Place graham crackers in a large resealable plastic bag, crush with a rolling pin. Pour crumbs into a medium bowl; stir in sugar. Add melted butter and stir until well combined. Pour on a cookie sheet and toast, tossing occasionally.  Be careful not to burn.  Toast for 10 – 15 min at 350 degrees. Set aside to cool.
Filling: Using a food processor beat the Mascarpone with the sweetened condensed milk until smooth. Beat in the lemon juice, lemon zest and vanilla.
Assembly
Pour a small amount of the graham cracker mix into the bottom of each parfait glass. Drop cheesecake fill into each parfait glass, fill to ½ mark. Cover filling with layer of berries. Fill the parfait glass to top with cheesecake mixture. Top with berries and a sprinkling of the graham cracker mix.  Cover with plastic wrap, and refrigerate until firm, about 30 minutes.
◀ Go back