The Best Ice Cream Spots in Coronado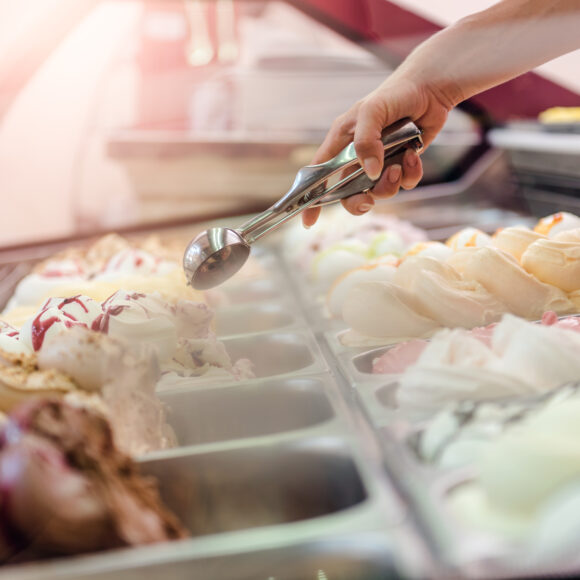 Mix sunny skies, beautiful beaches, and sweet treats to cool you off, and what do you get? A recipe for the perfect summer day. Our seaside town is dotted with shops doling out sugary goodies, so you never have to go far to indulge your craving. From soft serve to gelato, there's plenty of variety when it comes to ice cream on Coronado Island. Read on for a list of favorites compiled by our innkeepers.
MooTime Creamery at 1025 Orange Ave
With a classic 1950s feel and heavenly aromas emanating from the entrance, this Coronado ice cream shop is irresistible, especially in the hot summer months. All the ice cream served here is handcrafted fresh on the island. Whether you stick to classics like scoops and sundaes or dare to try some original creations such as MooTacos and MooPies, you're sure to satisfy your sweet tooth. There's a wide array of flavors to choose from here — the cookie dough, butter pecan, and berry sherbet get rave reviews. We're partial to the cheesecake with strawberries and graham crackers.
Though ice cream reigns supreme in this town, it's not hard to find excellent gelato in Coronado if you know where to look. At Nado Gelato, a display case of delicious flavors calls out to you, practically begging to be sampled. Choose from flavors like Nutella, hazelnut, mint chip, and panna cotta, all fresh and homemade on site using natural ingredients. You'll even find some vegan and gluten-free options in the roster of flavors. Enjoy your treat in a cup or cone or opt for a shake or smoothie. Need a kick to go along with your sweet treat? Try the affogato, a hearty scoop of ice cream swimming in a shot of hot espresso.
Clayton's Coffee Shop at 10th and Orange
The sidewalk pick-up window at Clayton's is something of a legend in Coronado. It offers the perfect opportunity to stop for a cold treat while you're taking a stroll down scenic Orange Avenue, home of the main commercial drag. A scoop (or two) of soft-serve hits the spot on a sunny afternoon as you're heading toward the beach. There's nothing like ice cream in Coronado to cool you off on a hot summer day!
Have more time to sit down and enjoy a meal? Get a seat inside at this retro diner to fill up on classic American dishes, not to mention sundaes, shakes, malts, and pie a la mode when you're ready for dessert. And don't forget to bring a few quarters for the jukebox!
Gelato Paradiso at 918 Orange Ave
Gelato Paradiso is a paradise indeed, especially for those who can't get enough of the creamy, decadent experience that this Italian-style ice cream provides. Occupying a delightful shop along Orange Avenue, this neighborhood mainstay has been serving up cold treats since 1999. The shop specializes in artisan-made flavors of gelato and sorbetto, with a whopping 30 on the menu at any given time. Stop by when you're ready to devour a mound of handcrafted goodness, or order in advance when you want to celebrate a special occasion with one of the shop's mouthwatering gelato cakes.
Cold Stone Creamery at Coronado Ferry Landing
With beautiful skyline views, gentle waves, and a bustling commercial district, Coronado Ferry Landing is a wonderful first peek at our delightful island. And in the warm summer months, a tower of ice cream sitting atop a fresh cone takes the experience up a notch. Cold Stone Creamery is a solid option for ice cream in Coronado, whether you're hankering for simple, classic flavors or signature creations that come with their own creative mixes of toppings. 
 _______________________________________________________________________
When you stay at 1906 Lodge, you can look forward to an array of sweets, treats, and goodies during your vacation. In addition to a complimentary breakfast prepared daily, you'll enjoy freshly baked cookies in your room, a complimentary Happy Hour with wine and hors d'oeuvres, and mimosas on the house. Book your stay today!
◀ Go back