Great Ways to Enjoy Coronado when You're Visiting By Yourself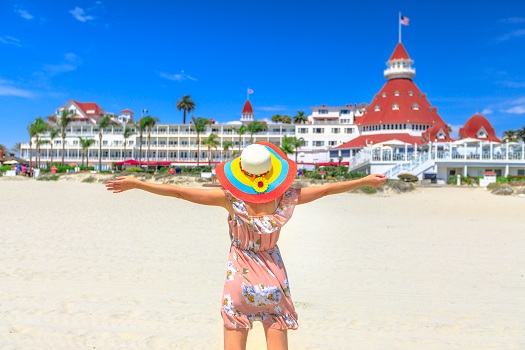 Traveling alone at least once in your lifetime is a must, and Coronado Island is a great destination for a solo vacation. You have the option to do what you enjoy instead of agreeing to group activities because you want to seem fair. The vacation is yours to plan, from restaurant choices to hotel accommodations. Below are some traveling tips to use when visiting Coronado alone.
Go on a Walking Tour
For those moments when you want to be surrounded by others but still enjoy a solo trip, a walking tour is an excellent Coronado activity. There are a variety of other trips that take place in the early afternoon and evening hours, including ferry excursions. You can take in the San Diego skyline on a Coronado Ferry tour or roll through town on a rented Segway. Depending on the month and season of your solo trip, you may catch an outdoor music concert while walking or riding along the ferry landing. Even if you don't enjoy skateboarding yourself, the skate park in town is a sight you must see while on vacation.
Visit a Museum
The city of Coronado is known for its historical attractions. Therefore, while on vacation in Coronado, you can learn while having fun at one of the local museums. While enjoying the quiet and relaxing activity, you don't have to worry about others becoming bored. If you want to visit more than one historical attraction on your solo vacation, you can. There are a variety of museums to choose from in this resort town, and some even offer self-guided audio tours. You can also visit the landmark hotels (especially the world-famous Hotel del Coronado) and grand homes to view the beautiful sights and learn more about the island's rich history.
Taste Different Foods & Beverages
If an organized walking or boating tour isn't your top choice, you can customize your own food tour while traveling to Coronado Island alone. Before your trip, make a list of all the new foods you want to try, and make sure to include coffee and wine, which are some of the area's specialties. While taking a tour of the different restaurants and cafés, you can converse with the owners and workers, learn more about the businesses, and get recommendations for some of the special menu items you may have overlooked. Adding the local creameries to your excursion is a great idea, especially if you visit during the hotter months. Take a stroll to the Coronado Ferry Landing and check out the Coronado Farmers' Market, where you'll find fresh produce, flowers, and plants offered by local growers from all over San Diego County.
Choose Something You Love
If reading is your favorite activity, you can visit one of the many bookstores and find both new releases and vintage volumes. If you enjoy sunbathing, surfing, boating, or reading a book near the ocean, you can visit one of the beautiful sandy beaches in Coronado. The objective is to do something you love without having to worry about traveling companions being uninterested. 
There are so many opportunities to enjoy Coronado Island that you won't be able to do and see everything you want to in just one day, so make sure to reserve your room at 1906 Lodge. Coronado guests are amazed at our array of comfortable amenities and the dramatic beauty of our meticulously restored historic building. Our staff is dedicated to making your experience memorable, so call us to reserve your room today at 866-435-1906.
◀ Go back