5 Unique Coronado Activities to Enjoy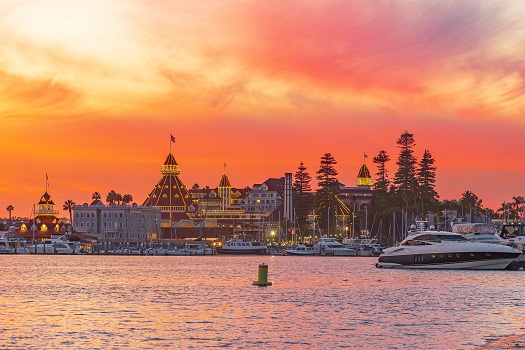 More of a peninsula than an island, Coronado is a San Diego–adjacent community with an abundance of charm. Not surprisingly, you won't have to struggle to find things to do here. If you have a penchant for the truly unique or unusual, here are five things to do in Coronado that can definitely be described this way.
1. Go Sightseeing at the Hotel del Coronado
You may not think of taking a stroll to a local hotel just to check out the sights when you're staying elsewhere. However, not every hotel is the Hotel del Coronado. The second-largest wooden structure in the United States, this hotel is truly a work of art. It's even rumored to have inspired L. Frank Baum's iconic Emerald City in the Oz books.

Bonus Suggestion:

When the tide is really low, look for the outline of the SS Monte Carlo about a quarter-mile south of the Hotel del Coronado. It's a ship that sank offshore here in the late 1930s.
2. Check Out Other Oz Connections
If you really want to dive into Coronado's Oz connection, you're welcome to visit Frank Baum's historic home on Star Park Circle. It's a private residence, so there are no inside tours. Still, you can view it from the outside. There's also a Wizard of Oz glass art exhibit at the local Coronado Public Library.
3. Take a Segway Tour of Coronado
The Segway company is based in New Hampshire, but Coronado has wholeheartedly embraced this uniquely appealing mode of transportation. If you prefer to see the sights here without having to walk everywhere, rent a Segway locally or check out places that offer Segway tours. If you're new to this device, you can receive personalized instruction at some of the rental/tour shops in the area.

Bonus Suggestion:

Bikes, surreys, and even golf carts can also be rented locally in Coronado. Any of these modes of transportation will also give you a unique and relaxing way to check out the sights.
4. Opt for a Helicopter Tour of the Area
If you prefer something even more unusual than gliding all over town on a Segway, consider a helicopter tour. There are several businesses in the area that specialize in aerial tours of Coronado and the surrounding San Diego area. Book in advance, and you should be good to go. This is also an excellent way to check out the sights if you'll be bringing a small group of friends or family members with you when you visit.
5. Treat Yourself to Handmade Ice Cream Treats
Visiting the MooTime Creamery is absolutely something unusual to do in Coronado—in all the best possible ways. Located on Orange Avenue, MooTime is famous for its original and incredibly tasty hand-rolled cones and handcrafted ice cream. If you're on the hunt for more uniquely appetizing local eats, make your way to the Coronado Ferry Center and check out the Coronado Farmers' Market, where you'll find fresh produce offered by local growers from all over San Diego County.

With all the fun activities and interesting things to see in Coronado, you won't be able to check off everything on your to-do list in just one day, so reserve a room for a few days or a week at 1906 Lodge. Coronado Island visitors who stay with us are pampered in style, and we're dedicated to providing the ultimate in elegant comfort and exceptional service. From in-room spa tubs to cozy fireplaces, we can provide you with the perfect relaxing escape. To reserve a room at our charming boutique hotel, call us today at 866-435-1906.
◀ Go back