Advice for People Who Are Traveling for the First Time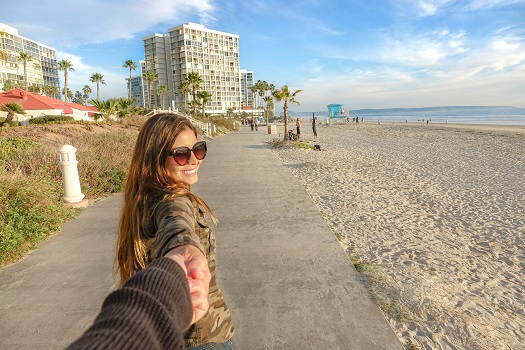 Beginning to travel for the first time in your life is an amazing opportunity to expand your horizons. At first, you might feel a little nervous as you head further away from home, but this is a good thing. You can also keep your anxiety at bay by following these simple tips for beginners.
Keep Your Plans Simple
Right now, you might feel like you've finally been set free to explore the world. However, you don't want to push things until you get some experience under your belt. For now, plan trips around popular destinations. Visiting a place like Coronado, California, means you'll have easy access to stores, pharmacies, and other amenities if you forget something.
Research Your Lodging Options Online
One area where beginner travelers tend to make mistakes is picking the wrong places to stay. A comfortable, clean hotel is critical so you can rest and recuperate after a long day exploring a new place. You can avoid unpleasant surprises by researching hotels before you make a reservation. Reading reviews and looking at photos online can help you feel confident about checking in. 
If you're planning to stay near San Diego for a night or a few days, check out the beautiful 1906 Lodge. Coronado Beach visitors are pampered in style at this romantic historic hotel, which is within walking distance of the island's main restaurants and galleries as well as the world-famous Coronado Beach and Hotel del Coronado.
Pack Light but Remember the Essentials
You'll find plenty of tips for packing online, but it really all comes down to self-control. Ask yourself when and how you'll wear each item you put in your suitcase. Pieces that serve multiple functions work best. For instance, some skirts are made to double as dresses, or you might want to use a scarf for warmth or as a hair covering when you climb into a convertible.
Plan for Sudden Weather Changes
Many places around the world are known for sudden temperature changes and random rain showers, and California is one of them. Packing a light jacket is always a good idea. Even in the summer, you might still get chilly as the sun goes down. You can also cover up in restaurants and other establishments where the temperatures may be cooler.
Install Important Apps before You Leave
Traveling is so much easier for beginners now that there's the option to use apps for just about everything. However, downloading apps can drain your battery, and it's time-consuming when you need information in a hurry. If you plan to use an airline app to track your flight or watch a movie, get it now. Apps for maps, weather information, and special venues might also need to be added to your download list.
Be Open to New Opportunities
Don't waste time on your trip being afraid to venture out. After all, every new experience just helps you become a more seasoned traveler. Try to leave any embarrassment at home and plan to push yourself beyond your comfort zone. From taking a surfing lesson to going on a dolphin-watching tour, you'll have the chance to go back home with many amazing memories.
If you're traveling to gorgeous Southern California and you're looking for a perfect seaside getaway with luxurious amenities and the feel of a Coronado Island B&B, 1906 Lodge is the ideal destination. Many of our guestrooms feature private entrances, balconies, spa tubs, wet bars, and cozy fireplaces. Call us today at 866-435-1906 to reserve your room on Coronado Island, just across the bay from America's Finest City.
◀ Go back