Amazing Thanksgiving Weekend Activities in Coronado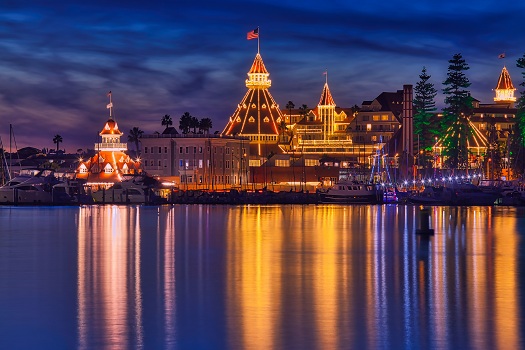 Enjoy plenty of sunshine, generally mild temperatures, and an abundance of fun and relaxation in a casual, picturesque slice of coastal paradise for Thanksgiving. If this vision of an ideal holiday appeals to you, spend your long weekend in Coronado. If you already have plans to come here for all or part of your Thanksgiving weekend, continue reading to discover some of the things you can enjoy during your visit, brought to you by the people who know the island best, the friendly staff at 1906 Lodge. Coronado visitors rave about our hotel's elegant charm, and we offer the perfect setting for a cozy holiday getaway.
Make Arrangements for a Tasty Holiday Dinner
It's not too much of a stretch to assume you're not planning a getaway to Coronado so you can spend the better part of the day cooking up a big Thanksgiving Day dinner. This doesn't mean you have to forego all the tasty things associated with this holiday. What you can do instead is make reservations ahead of time at one of the local spots serving up delicious meals. In the Coronado area, this list includes:
• Hotel del Coronado – You don't have to be a guest here to reserve a dining spot at the Oceanview Ballroom or historic Crown Room for a traditional holiday buffet.
• The Marine Room – Go over to nearby La Jolla, and you'll be treated to an elegant Thanksgiving Day feast coupled with a gorgeous bay view.
• Vigilucci's Italian Restaurant – Treat yourself and anyone coming with you to a Thanksgiving Day meal prepared with a delicious Italian twist. There's a Vigilucci's on Orange Avenue in Coronado.
Shop on Orange Avenue
Coronado's main thoroughfare, Orange Avenue, is a shopper's paradise thanks to the more than 50 stores found here. While some of the shops here may be closed on Thanksgiving Day, you're welcome to pick up some unique nautical or Coronado-inspired Christmas gifts and explore the area during the rest of your holiday weekend visit.
Ice Skate at Coronado Beach
You don't have to totally forget about all winter-related activities just because you're spending Thanksgiving in a place where snow is rarely seen. In fact, you can pack your ice skates and check out views of the Pacific Ocean at Coronado Beach over by the Hotel del Coronado.
Visit Other Beaches in the Area
Another reason to love spending Thanksgiving weekend in the Crown City is having the option to visit Coronado Shores Beach, Silver Strand State Beach, Crown Cove, or many of the other popular beaches in the area. Many of them are accessible year-round due to the favorable weather conditions common here.
Sample Live Music with Good Eats & Brews
Many of the local venues, bars, and restaurants presenting live music also serve up appealing treats and brews. If you do a little Coronado trip pre-planning, you should be able to find some great local live music options that appeal to you during Thanksgiving weekend. For instance, McP's Irish Pub on Orange Avenue has live music events scheduled for November 25th and 26th this year.
No matter what kind of holiday getaway you're looking for, you're sure to find the ideal spot on Coronado Island. If they're looking for quaint charm combined with the enchanting feel of a bed and breakfast, Coronado, CA, visitors will love the elegant comfort and exceptional service at 1906 Lodge. From cozy fireplaces to in-room spa tubs, we can provide you with the perfect holiday escape. If you'd like to reserve a room at our charming boutique hotel, call us today at 866-435-1906.
◀ Go back