7 Ways to Have a Blast on Coronado Island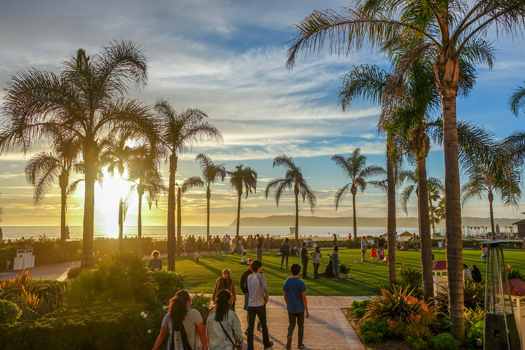 Coronado Island is located in San Diego Bay. The place is more of a peninsula and has attracted locals and tourists for many years. Coronado offers amazing adventures, entertainment, relaxation, sightseeing, and food. Take a look at seven incredible things to do on this island.
1. Go Surfing
If you're interested in learning how to surf, Coronado is the right place to visit. Coronado Surfing Academy is located a few steps from the Hotel Coronado. Meet professional instructors who can help you fulfill your surfing dreams. If you're a pro, rent a wetsuit and board and enjoy the waves.
2. Visit the Coronado Hotel
As you prepare to visit other fun areas on the island, make sure to visit the famous hotel in San Diego. You can explore the hotel's fascinating history. As old as it may sound, the resort is updated continuously.
3. Take a Ferry Ride
This is a 15–20 minute ride, but you'll never regret it. Explore the beauty of the San Diego skyline and the Gaslamp Quarter. There's no need to take an Uber if you live downtown, and you can enjoy the scenic view on a ferry ride. Take a ferry that goes to Broadway Pier to add extra time to the experience.
4. Check Out Spreckels Park
If you're looking for somewhere to go for an afternoon out, Spreckels Park is the perfect choice. There's a spacious playground for children to enjoy themselves, and there are large grassy areas for picnics. The park takes your mind off the beach, and it's a fantastic place to spend some time.
5. Take a Walking Tour
You'll notice there are many examples of historic architecture the moment you step on this island. There's no need to hire a taxi while visiting these places. Just take a walk on the island and enjoy your tour. You can also stroll along the beach and grab some delicious treats at the Coronado Farmers' Market. Take your camera and catch the lovely view, especially during sunset. Don't be surprised if you spot a pod of dolphins.
6. Bike Around the Island
The terrain on Coronado Island is flat, making it ideal for biking. There are several places where you can access bikes of different varieties, including surrey bikes. Cruise along the beach as you enjoy landscapes and seascapes. It's the best way to beat the traffic while exploring the island. Check out the nearby popular bike paths like Bayshore and Silver Strand.
At 1906 Lodge, we offer complimentary bikes to our guests, so this is a wonderful way to explore Coronado Island.
7. Visit the Theaters
Don't leave the island without visiting Lamb's Players Theatre to see a play. The productions staged by the Lamb's Players range from invigorating musicals to engrossing dramas and hilarious comedies. You can also watch a movie at the Village Theatre, which first opened in 1947 and boasts exclusive vintage charm. Enjoy the old-school atmosphere while you watch the latest Hollywood blockbusters.
There's so much to enjoy on Coronado Island that you won't be able to do everything you want to do in just one day, so reserve a room for a night or two at 1906 Lodge. Coronado Island guests will be amazed at our array of luxurious amenities and the stunning beauty of our meticulously restored historic building. Our staff is dedicated to making your experience memorable, so call us to reserve your room today at 866-435-1906.
◀ Go back