Coronado's Best Places to View Wildlife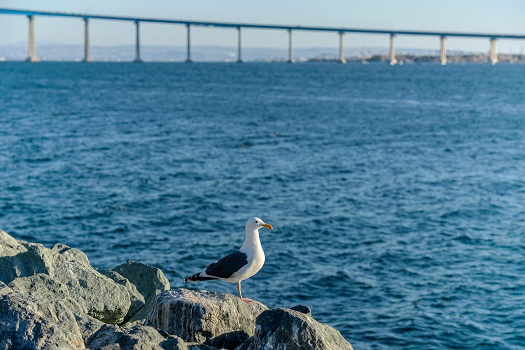 If you have an appreciation for native species that include amazing flora and fauna, you'll absolutely love Coronado! Perched on a peninsula in San Diego Bay, it's a charming city where you can see plenty of wildlife during your visit here. As for where to find such things locally, the welcoming staff at 1906 Lodge, Coronado visitors' top choice for a comfortable hotel with all the amenities they need for a relaxing getaway, go over some of the possibilities below.
In Front of Hotel del Coronado
Odds are good you'll check out the historic Hotel del Coronado at some point during your stay as you explore, so let's start here. Right in front of the hotel, you'll see an abundance of wildlife during low tide, including small fish and hermit crabs. If you do a little digging, you may find some sand dollars, too.
Centennial Park
Nestled between sandy beaches on each side, Centennial Park is home to an abundance of blooming flowers along with cascading palm trees. There's also a fishing pier where you can view any fish that may pop up if you don't feel like actually fishing.
Silver Strand State Beach
Another way to see wildlife in Coronado is to rent a kayak or boat from the on-site aquatic center at Silver Strand State Beach and spend some time in the water. Doing so will put you in the middle of spots where you can see an assortment of aquatic life along with a variety of birds soaring overhead.
Spreckels Park
Even if you're not at Spreckels Park for the nation's largest annual flower show, you'll still find an abundance of wildlife and natural wonders to check out. In early 2021, the San Diego Humane Society released a rehabilitated barn owl in the park. Other birds can be seen around the park as well if you walk around and explore.
Historic Home Tours
During your stay in Coronado, take one of the historic home tours offered locally and you'll be treated to some visually appealing wildlife. Many of these homes have sprawling gardens and other wildlife of this nature on full display throughout their exterior spaces. Another way to see historic homes with gorgeous gardens is to rent a surrey or bike to check out these sights on your own time.
San Diego Zoo
One other place where you can see wildlife, albeit not actually "in the wild," in the Coronado area is at the world-renowned San Diego Zoo. A related option is the San Diego Zoo Safari Park, which is a bit further away in Escondido. 
There are plenty of opportunities to view wildlife in Coronado, so plan your vacation now and reserve your room today at 1906 Lodge. For Coronado visitors who are looking for a perfect seaside getaway with luxurious amenities and the feel of a Coronado Island B&B, 1906 Lodge is the ideal destination. Many of our guestrooms feature private entrances, balconies, spa tubs, wet bars, and cozy fireplaces. Call us today at 866-435-1906 to reserve your room on Coronado Island, just across the bay from America's Finest City.
◀ Go back