Coronado's Best Places to Take Pics for Instagram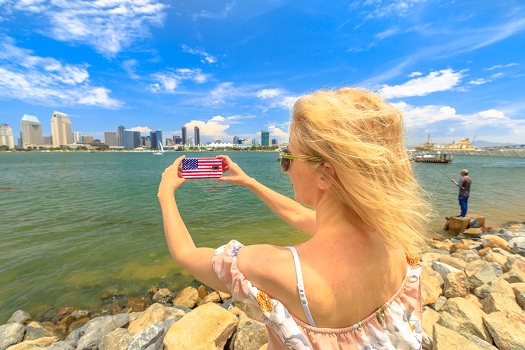 When you visit a place as naturally charming and picturesque as Coronado, it's understandable to want to post pics on your Instagram page. All you'll really need to do to accomplish this goal is take your camera or phone pretty much anywhere you go while you're here. If you prefer more specific recommendations, continue reading to find out more about the most Instagrammable spots in Coronado.
The Award-Winning Coronado Central Beach
The sparkling sand—the result of small bits of mica naturally embedded in it—at Coronado Central Beach instantly catches the eye. It's also a highly Instagrammable spot if you prefer to share photos of the gentle waves, awe-inspiring sunsets, and any other beach-related activities you might enjoy here. Some other Instagrammable beaches in the Coronado area include:

• Coronado Shores (South) Beach
• Silver Strand State Beach
• Coronado Dog (North) Beach
If you're looking to stay near the beach for a night or a few days, check out the beautiful 1906 Lodge. Coronado Beach visitors are pampered in style at this romantic historic hotel, which is within walking distance of the island's main restaurants and galleries as well as the world-famous Coronado Beach and the Hotel del Coronado.
The Historic Hotel del Coronado
You don't have to stay here to appreciate this iconic Instagram-worthy historic landmark. The Hotel del Coronado is a Victorian-style structure surrounded by towering palm trees and stunning natural views. Fortunately, there are many possible vantage points you can choose as you snap pics for your posts.
Coronado Ferry Landing
This is an excellent place to go to delight your Instagram followers with impressive pics of the San Diego skyline. You can also get equally appealing photos of the bay while standing on the Coronado Ferry Landing. There's also a small stretch of beach here.
The Bay from a Rental Boat or Kayak
During your stay in Coronado, you're welcome to rent a boat or kayak so you can get right out in the adjacent bay. Bring your phone or camera with you, and you'll be able to take as many pics as you want of the shoreline or anything else that may catch your eye. You may prefer to have a friend come with you if you want to focus solely on taking pictures.
Orange Avenue
The main avenue that runs through Coronado has many walkable areas. As you stroll, feel free to take pics of this bustling street and its various shops, restaurants, and other features to enhance your Instagram page.
Coronado Tidelands Park
You'll be rewarded with pristine views of the San Diego waterfront at this park. The largest of Coronado's parks, this spot is also Instagrammable thanks to its vast open spaces and abundance of scenic surroundings.
Sites You'll See on the Coronado Heritage Walk
The Coronado Museum of History & Art offers a heritage walk that will take you to many Instagrammable spots throughout town. These include historic local buildings and notable architectural sites. If you schedule this tour during your visit, it includes admission to the museum.
All Around Town (if You Go on a DIY-Themed Walking Tour)
This entire city is incredibly Instagrammable. A convenient way to take in the many photogenic sites around Coronado is with a themed walking tour you can take yourself after downloading an app. For instance, an art walking tour app can be downloaded from the Coronado Visitors Center website. The app gives you directions to artistic destinations where you'll find murals, fountains, sculptures, and art galleries.
For Coronado visitors who are looking for a perfect seaside getaway with comfortable amenities similar to a B&B, Coronado Island, San Diego is home to 1906 Lodge—the ideal destination. Many of our guestrooms feature private entrances, balconies, spa tubs, wet bars, and cozy fireplaces. Call us today at 866-435-1906 to reserve your room on Coronado Island, just across the bay from America's Finest City.
◀ Go back