Coronado's Top Nighttime Eating Spots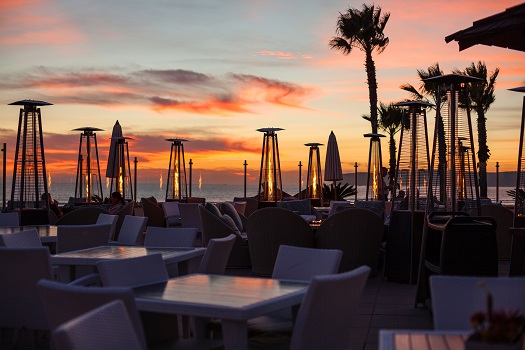 The fun doesn't stop in Coronado just because the sun has said goodbye for the day. That said, since many local restaurants are just getting back to dine-in options, "late night" may not be as late as it used to be in Coronado and nearby areas. When they're staying in a Coronado bed and breakfast, San Diego visitors can still find some places to have a good meal later in the evening and into the night. Some appetizing destinations are recommended below.
Later-Evening Dining
These are some of the places in Coronado that have hours later into the evening. In this case, what you could do is enjoy a meal later in the evening to fuel up for the rest of your night. Local restaurants falling into this category include:

• Brigantine Seafood Restaurant – Surf 'n' turf, oysters on the half shell, fish tacos, and much more can be enjoyed until 10 p.m. on Fridays and Saturdays here. They're open until 9:30 p.m. on the other days of the week.

• Miguel's Cocina – If you prefer something a bit spicier later in the evening, stop by here. They're open until 10 p.m. on Fridays and Saturdays. Make sure to give the fresh juice margaritas a try!

• Peohe's – Make a late-evening reservation here during your visit to Coronado, and your palate will be pleased by fresh seafood, tropical drinks, and other tasty goodness. This place closes at 9 p.m., so shoot for 8 p.m. reservations to fuel up for the rest of your night.
Late-Night Bars
Some of the bars and pubs in Coronado have later-evening hours, but there are a few other locations that stay open later into the night. Local bars with later hours include:

• Little Club – Stop here late at night, and you can play pool in this cozy setting while sipping cocktails until 2 a.m.

• Tavern – Enjoy a cool late-evening breeze while sipping on cocktails and nibbling on casual eats by checking out this local hotspot. Saturday and Sunday are the later nights here—until 10 p.m.

• Stake Chophouse & Bar – Make your visit to Coronado even more memorable by stopping here later in the evening for a full meal coupled with a cold one. Dine-in is available until 9 p.m. daily.

• Babcock & Story Bar – Pay a visit to the iconic Hotel del Coronado to sample the brews on tap at this airy genteel bar. It's open until midnight on Fridays and Saturdays.

• Nicky Rottens Bar & Burger Joint – For a more lively late night in Coronado, check out this spot. It's a combination sports bar and burger joint, and you can drop in here until 10:30 p.m. daily.
Late-Night Fast-Food Options
There may be times during your visit when all you want is a quick bite to eat. Fortunately, there are some late-night fast-food options available locally. These include:

• McDonald's – Open until 3 a.m. at the North Island Naval Air Station for drive-through.

• Chipotle Mexican Grill – Open for drive-through and takeout until 10 p.m. daily in Coronado Plaza.

• Taco Bell – Open for takeout until 11 p.m. daily in Coronado Professional Square. 
Great food is just one of the many things you'll love about Coronado. In fact, there's so much to enjoy on Coronado Island that you won't be able to do everything you want to do in just one day, so reserve a room for a night or two at 1906 Lodge. Coronado Island guests will be amazed at our array of luxurious amenities and the stunning beauty of our meticulously restored historic building. Our staff is dedicated to making your experience memorable, so call us to reserve your room today at 866-435-1906.
◀ Go back