Where to Find the Top Nightlife Spots on Coronado Island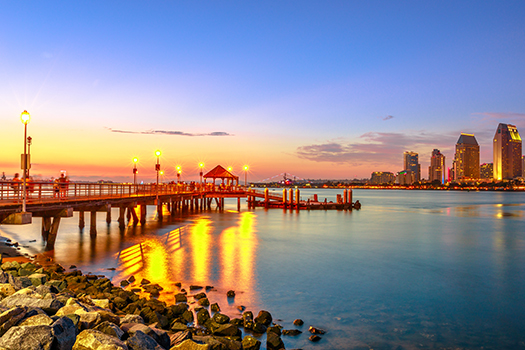 Coronado Island is one of the most interesting places in Southern California. Some people call it an island of contradictions because of the diversity of socioeconomic activities spread across a relatively small area. On one hand, Coronado is home to the United States Naval Special Warfare Command, which makes it the spiritual home of the Navy SEAL community. On the other hand, the island offers considerable tourism potential plus a vibe that's more refined and relaxed compared to nearby San Diego. With all this in mind, Coronado also happens to offer quite a few enticing nightlife options, and the ones listed below are highly recommended by the friendly staff at 1906 Lodge, Coronado Island's premier boutique hotel.
Babcock & Story Bar
This posh bar in the legendary Hotel del Coronado is named for the Del's founders, and its elegant interior features the hotel's original mahogany bar and a recently rediscovered historic cupola. Sip craft cocktails and savor tasty appetizers as you enjoy incredible views of the California sunset through floor-to-ceiling glass doors or outside on the breezy patio. 
Leroy's Kitchen & Lounge
Foodies will love this favorite hangout for both locals and tourists. This eatery, which is committed to serving fresh, local, sustainable food, specializes in eclectic cuisine that varies with the season to provide diverse flavors all year round. Leroy's partners with local farmers, brewers, and suppliers to provide a truly incredible farm-to-table dining experience. This charming authentic neighborhood destination is warm and welcoming, and you can find both intimate private dining areas as well as open outdoor patio space for relaxing with a local craft brew. You'll also delight in the display of eclectic artwork from the vibrant local artist community.
The Beach Shack
Located right on the boardwalk and just steps away from the sand, the Beach Shack is a Coronado institution that might not technically qualify as a nightlife spot because it closes when the sun goes down. Nevertheless, the margaritas and tacos are definitely worth enjoying along with the great view of the Pacific Ocean.
Sunset Bar
This refined hotel bar offers one of the best views on the island, and it's often frequented by couples looking for a romantic spot complete with fire pits in the outdoor lounge. Elaborate cocktails and a fine dining menu make the beachfront experience even better.
Wine a Bit
As its name suggests, this is a tasting bar with one of the most extensive wine lists in Southern California. The upscale ambiance doesn't automatically translate into an expensive bar bill. Wine a Bit is actually quite reasonable when considering the high-quality wines and the gourmet food served for pairing. The delicious flatbread pizza is known all across the island. There's even a gift shop in case you want to impress friends who are wine aficionados. 
After enjoying the amazing food, tasty libations, and friendly atmosphere of the nightlife on Coronado Island, you'll be delighted to have a relaxing, luxurious haven to return to at 1906 Lodge. Our staff is committed to ensuring your stay on the island is a memorable one. If you'd like to reserve one of our beautifully appointed rooms or you need directions to Coronado Island, call us today at (866) 435-1906. 
◀ Go back