Unique Ways to Enjoy Coronado with Your Partner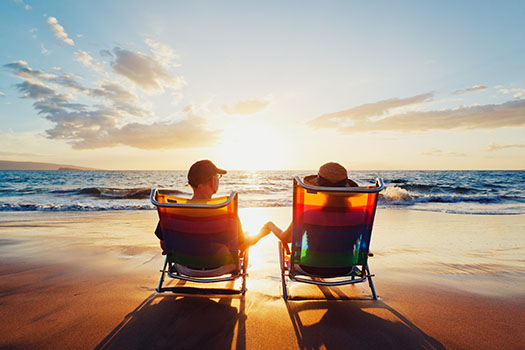 With its year-round spectacular weather, inviting white sand beaches, and some of the best views of the San Diego skyline, Coronado is truly a place unlike any other. For your next Coronado vacation with your spouse, here are some enjoyable activities that will make your getaway both romantic and unforgettable. To make the most of your experience, stay a few nights in a hotel that offers all the amenities you need for a romantic, relaxing getaway, such as the iconic 1906 Lodge. Coronado visitors choose us again and again because of our peaceful, quiet ambience and impeccable service.
The Beach
San Diego is known for its world-class beaches, and Coronado is no exception. Enjoy swimming and surfing or just hang out at Coronado Beach, located minutes from the heart of downtown Coronado. If you like dogs, Coronado Beach also boasts a dog beach. If you're in the mood for a more unique beach experience, Silver Strand State Beach, located a mere 10 minutes to the south, features a pristine white sand beach in a uniquely secluded environment. 
A Boat Ride
If you or your partner would rather be on the water than in it, Coronado has some of the best boating in Southern California. Choose from among sailboats, powerboats, and kayaks, and spend a fun afternoon cruising around San Diego Bay. With calm waters and scenic views of the skyline, including the famous Coronado Bridge, your afternoon will be one to remember. If you'd rather have someone else be the skipper, a quick ferry ride from the island to San Diego will grant you an excellent view of the bay, the bridge, and the city.
A Tour of the Island
For those who prefer to stay on dry land, see Coronado in a unique way by renting a couple of bikes or a golf cart. Zip around town and visit such landmarks as the Neil-Adams House and the Hotel del Coronado. Then head for the Museum of History and Art, where you can learn about how Coronado changed from a sleepy peninsula into the bustling, vibrant community it is today. If you're more of the "hands-on" type, the Emerald C Gallery is a full working art studio where you can participate in twice-weekly wine-and-paint nights or simply browse the collections.
Dinner & a Show
Of course, no trip is complete without a romantic dinner and a soothing evening spent enjoying one of San Diego's famous sunsets. Enjoy a relaxing meal at one of the many fine restaurants near the Coronado Ferry terminal, then take in the nighttime vista of the San Diego skyline as you stroll along the waterfront of San Diego Bay at Centennial Park. And when the sun goes down, the curtain comes up. Five times a year at the Lamb's Players Theater, you can enjoy a show by some of San Diego's leading performers in an intimate, cozy environment. The remainder of the year, the Coronado Playhouse offers a variety of performances by amateurs and professionals alike.
No matter what kind of romantic getaway you're looking for, you're sure to find the ideal spot on Coronado Island. If they want the cozy, charming feel of a bed and breakfast, Coronado, CA, visitors will love the historic architecture and exceptional service at 1906 Lodge. From our bottomless mimosas to our array of comfortable amenities, we can provide you with the perfect romantic escape. To reserve your room at our elegant hotel, call us today at 866-435-1906.
◀ Go back