5 Reasons to Spend Valentine's Day in Coronado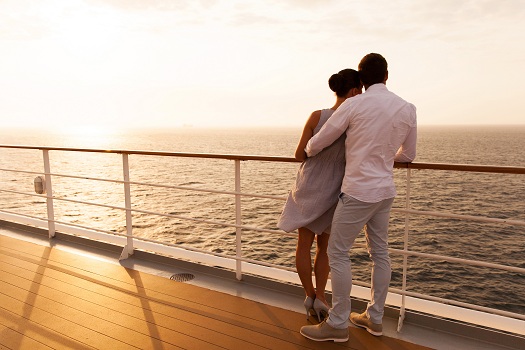 Coronado Island offers an idyllic setting for a Valentine's Day getaway. Whether they want to celebrate for a few hours or a few days, there are plentiful activities and locations where couples can spend quality time together. Enjoy the stunning views while celebrating your love. Whether you prefer an active day or one with a more relaxed vibe, here are five reasons to spend your Valentine's Day in Coronado, brought to you by the people who know the island best, the friendly staff at 1906 Lodge. Coronado Island visitors quickly fall in love with our hotel's elegant, romantic setting, which is within walking distance of the island's beaches, shops, and restaurants.
1. Dinner for Two
Several Coronado restaurants offer Valentine's Day specials. Admire the views from Chez Loma overlooking the Coronado Bridge while feasting on a three-course meal prepared with farm-to-table ingredients. Your celebration menu might include a mixed green salad topped with crumbled blue cheese, Kalamata olives, and balsamic vinaigrette. Follow the salad with filet mignon in red wine sauce, roast duck in cherry port wine sauce, or an encrusted salmon filet in a smoked tomato vinaigrette. For dessert, enjoy a slice of double chocolate cheesecake or vanilla crème Brulee. The Feast and Fareway, adjacent to the golf course, offers a choice of celebratory pasta dishes and cocktails.
2. Live Performances
Get tickets and treat each other to a live performance at the local Lamb's Players Theatre. Before or after dinner, enjoy a matinee or an evening play presented by a cast of professional actors. The historic theater's semicircular seating ensures all guests have a commanding view of the stage.
3. Sunset Cruises
Embark on a romantic cruise after boarding a vessel in Glorietta Bay. Enjoy a four-course meal and champagne while taking in the view of a stunning sunset. See iconic landmarks on San Diego Bay. Live music sets the atmosphere for a night of dancing under the stars. Perhaps take a sunset seagoing tour of the area on a local sailboat while sipping beer or wine and eating snacks.
4. Beachfront Activities
Fill a picnic basket and head to Coronado Beach. Enjoy a pleasant stroll on the powdery white sand during the day or wait for the sunset and the starry night. Fire pits and glowing fires offer warmth when the sun goes down along with a place to roast marshmallows and enjoy a bottle of wine. Gaze at the twinkling heavenly lights above in the unobstructed night sky. Perhaps get the chance to make a wish upon a falling star.
5. Special Treats
Couples with a sweet tooth might consider indulging in a trip to the MooTime Creamery at the Hotel del Coronado. Share a frozen treat made from the wide selection of ice cream flavors and toppings. Or feast on a waffle cone filled with new flavor combinations. Frenchie's offers a more intimate celebration. The facility customizes cheese boards to order. Each board comes with a selection of cheeses, berries, and breads. Pair the board selections with one of four different bottled champagne options. Maybe order a special cake or torte from the Tartine café to be enjoyed on-site or at another intimate location.

No matter what time of year you're looking for a romantic getaway, you're sure to find the ideal spot on Coronado Island. If they want the cozy, charming feel of a Coronado Island B&B, visitors will love the historic architecture and exceptional service at 1906 Lodge. From our bottomless mimosas to our in-room spa tubs, we can provide you with the perfect romantic escape. To learn more about our amenities or reserve a room at our elegant hotel, call us today at 866-435-1906 for a wonderful Valentine's in Coronado.
◀ Go back