Why You Should Check Out Coronado Beach at Nighttime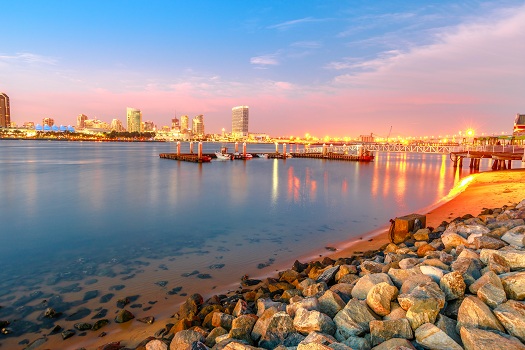 Just across the bridge from downtown San Diego, you'll find Coronado Island. One of the popular spots here is, not surprisingly, Coronado Beach. Bordered by the appropriately named Ocean Boulevard, it's a beach that can be very inviting during the day. But there are equally compelling reasons to visit Coronado Beach at night. Here are just a few, brought to you by the welcoming staff at 1906 Lodge. Coronado Beach, an eclectic mix of quaint shops, and a variety of dining options are within walking distance of our hotel, which offers all the amenities you need for a relaxing getaway. 
Watching Amazing Sunsets
Coronado's beach isn't technically open at nighttime, since it closes at sunset. But you're certainly welcome to enjoy the sunset here during your visit as day fades into night. What's more, there are roughly 146 days of sunshine annually in the San Diego area, meaning you'll have many opportunities to enjoy this beach as night arrives.
Boating in Nearby Waters
Due to COVID-19, group activities aren't permitted on Coronado Beach. However, you should be able to have some other people with you on a rental boat that's used in waters not too far from the beach. And you shouldn't have much difficulty finding a boat rental place in the San Diego area to get what you need to do this.
Hanging Out after Coronado Ferry Landing Concerts
Off and on throughout the year, there are concerts and similar live music events at nearby Coronado Ferry Landing, some of them later in the day. Because of the landing's proximity to Coronado Beach, you can head to the beach to hang out as the sun goes down after enjoying some live music.
Sunbathing without Full Sun Exposure
While sunshine is certainly beneficial and often very much appreciated, there's such a thing as too much of a good thing. If you prefer to sunbathe without full sun exposure, consider visiting Coronado Beach later in the day just as night is about to fall.
Wrapping Up the Day in Beach-Style Comfort
Coronado Beach does permit people who are members of the same household to enjoy the beach together. If you're traveling to San Diego with people you share a home with, you can come to the beach around sunset to wrap up your day. You may also bring towels and fold-up chairs with you.
Relaxing around a Cozy Fire as the Sun Sets
Open fires aren't allowed on Coronado Beach. However, what you can do is use a fire ring, which you can get at North Beach. You can then set up a cozy fire container to sit around as the day winds down.
Enjoying Later-Day Beach Fun in the Summer
In the summer, the sun sets much later in the day. What this means for you as a visitor to Coronado Beach is the ability to enjoy the amenities this beach has to offer a bit longer than what's possible during months when days are shorter. In other words, you can use the beach as your base at what would normally be considered later-evening hours while enjoying popular activities such as:

• Snorkeling
• Fishing
• Swimming
• Surfing
• Walking or jogging along well-lined walkways
No matter what kind of seaside getaway you're looking for, you're sure to find the ideal spot on Coronado Island. If you want peace and quiet within walking distance of Coronado Beach, you'll love the comfort and exceptional service at 1906 Lodge. From in-room spa tubs to cozy fireplaces, we can provide you with the perfect relaxing escape. If you'd like to reserve a room at our charming boutique hotel or you need directions to Coronado Island, call us today at 866-435-1906.
◀ Go back