Top 5 Reasons to Visit Coronado Beach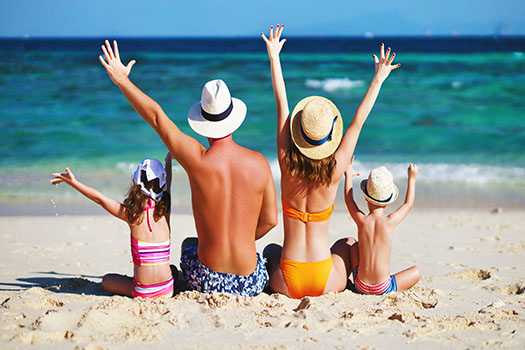 Coronado is known for its white sandy beaches and opportunities to enjoy swimming and a variety of other water-based activities. In addition to its warm weather and picnic spots, it's also known as a destination for families and couples. Whether they're interested in what the outdoors has to offer or they're spending time with loved ones, people travel from all over the world to visit Coronado Beach. Here are just a few of the top reasons, brought to you by the welcoming staff at 1906 Lodge. Coronado Beach, an eclectic mix of quaint shops, and a variety of dining options are within walking distance of our hotel, which offers all the amenities you need for a relaxing getaway. 
1. San Diego Has Amazing Weather
A typical San Diego summer is hot and sunny but without too much humidity. Even in the winter, this area isn't likely to experience freezing rain or snow. During the winter months, many visitors and locals enjoy watching the waves. In the summer, spending all day on the beach is a favorite pastime.
2. It's Clean & Easy to Access
Unlike a lot of public beaches, Coronado Beach makes the beachgoing experience easy with designated free parking areas and on-duty lifeguards. Regardless of where you're coming from, the beach has clean restrooms and showers so you can change out of wet bathing suits and wash off sandy feet.
3. There's Always Something to Do
Whether you're right on the beach or just a few miles away, there are plenty of activities to enjoy and places to see in and around Coronado Beach. The Coronado Cultural Arts Commission showcases an up-to-date schedule of shows and festivals. There are even vintage car races for antiques lovers. For those who want to stay on the beach, fishing, fire pits, and swimming are all popular activities.
4. It's Romantic
Coronado Beach offers perfect views of the vibrant Pacific sunsets. Even after the sun has set, many couples enjoy using the fire pits or walking on the beach at night. During the day, it's easy to spend the whole afternoon lying on the sand. For those who are on a budget, picnicking and suntanning are easy, fun ways to relax with their significant others.
5. Fishing Is a Popular Attraction
Coronado Beach is known for its yellowtail fish and tuna. Some of these tuna can weigh up to 400 pounds. Both sport fishing and line fishing can be found in this area as well as charter boat companies whose employees are more than willing to teach you how to fish.

Coronado Beach has a relaxing environment with ideal temperatures. For a safe and clean beach, many tourists prefer this location. Whether you're interested in visiting during the summer or winter, there are a variety of activities for everyone to enjoy. 
No matter what kind of seaside getaway you're looking for, you're sure to find the ideal spot on Coronado Island. If you want peace and quiet within walking distance of Coronado Beach, you'll love the comfort and exceptional service at 1906 Lodge. From in-room spa tubs to cozy fireplaces, we can provide you with the perfect relaxing escape. If you'd like to reserve a room at our charming boutique hotel or you need directions to Coronado Island, call us today at 866-435-1906. 
◀ Go back