What Makes Coronado a Great Destination for a Vacation with Friends?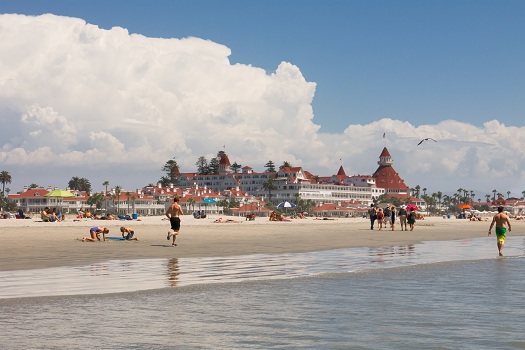 Coronado is a vibrant, fun-packed California destination that's only a 15-minute drive away from San Diego. Featuring award-winning beaches, it's also a good place to visit with like-minded individuals who have an equal appreciation for sun, fun, and nearly limitless opportunities to be active and engaged. Keep reading for more reasons to visit Coronado with your friends.
The Shoreline
Coronado's shoreline is easily one of the most convincing reasons to visit Coronado with friends. Voted the top beach in America by Dr. Beach, Coronado Central Beach is where you and your friends can swim, surf, sunbathe, or enjoy a picnic under an umbrella perched in the sand.
Hotel del Coronado
You wouldn't think a hotel you're not staying at could be a reason to come to Coronado with friends. But not every hotel is a National Historic Landmark that may have inspired Wizard of Oz author L. Frank Baum. The hotel also has an on-site gift shop and an adjacent beach where you and your besties can relax while sipping tropical drinks on rented lounge chairs.
Architectural Wonders
If you and your friends have an appreciation for decadent Spanish-style casas and other impressively designed structures, you'll love walking around Coronado to take in the sights. You and your travel companions are also welcome to take a self-guided tour of the area or head over to nearby San Diego to book a Segway tour. Bikes and surreys can be rented and used locally as well to explore architectural designs here.
Food Tours & More
Speaking of food, another compelling reason to visit Coronado with your friends is the food served here. What's more, some companies and travel agencies offer food tours you can book in advance. Related local food and/or beverage options ideal for groups include:

• Visiting local wine tasting rooms
• Scheduling a locally based wine tour that includes sampling
• Booking reservations online ahead of your visit at local restaurants offering dine-in options
• Making your way to the popular Moo Time Creamery to treat yourself and your friends to something sweet
Water-Based Fun with Friends
Coronado is equally well known for water-based activities, which is why kayaks, stand-up paddleboards, jet skis, and even sailboats can be rented locally. In most instances, all you and your companions will have to do is reserve your rentals, pick up what you'll need when you get here, and make your way to the water. You and your friends can even book lessons online and learn to surf or paddleboard together during your visit.
If you're looking to stay near the beach for a night or a few days, check out the beautiful 1906 Lodge. Coronado visitors are pampered in style at this romantic historic hotel, which is within walking distance of the island's main restaurants and galleries as well as the world-famous Coronado Beach and Hotel del Coronado.
Golfing
The Coronado Municipal Golf Course is the place to go with your friends when visiting this area if land-based activities of this nature are more your thing. Considered one of the top public golf courses in the nation, this bayfront destination also has an on-site clubhouse where you and your buddies can have a tasty meal in style.
For Coronado visitors who are looking for a perfect seaside getaway with comfortable amenities and the charming feel of a B&B, Coronado Island, San Diego is home to 1906 Lodge—the ideal destination. Many of our guestrooms feature private entrances, balconies, spa tubs, wet bars, and cozy fireplaces. Call us today at 866-435-1906 to reserve your room on Coronado Island, just across the bay from America's Finest City.
◀ Go back