Why Is Coronado Island the Perfect Place to Visit in the Summer?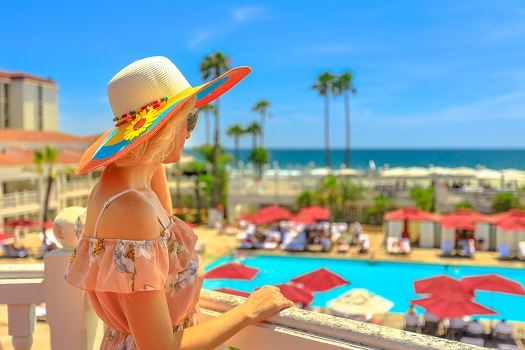 Linked to the mainland via a thin strip of land known as the Silver Strand, Coronado Island has much to offer. In fact, award-winning beaches and an abundance of dining possibilities are just some of the many reasons to make Coronado your preferred summertime destination. But if you need a bit more convincing, keep reading to discover compelling reasons to come to Coronado Island in the summer.
Coronado's Shoreline
The mile-and-a-half stretch of sand and natural beauty that is Coronado Central Beach is reason enough to visit this area in the summer. This beach offers mild waves that make it suitable for families. Silver Strand State Beach is another popular local beach, as is Dog Beach, one of the few off-leash beaches in the area.
Tide Pooling
As long as we're on the topic of water, add tide pooling to the list of reasons to visit Coronado Island in the summer. During low tide in some of the beach locations here, it's often possible to spot hermit crabs, sea anemones, and other amazing sea creatures. You can also find an abundance of sand dollars as you walk along the shoreline.
Segway Sightseeing
If you visit Coronado Island in the summer, you'll be able to see the sights on two wheels without having to pedal. Segways are a popular way to get around here, so much so that Segway tours of the Coronado area are offered locally.
Live Music All Summer Long
Grab your glow stick and enjoy fun, festive rock, blues, R&B, and classic rock concerts when visiting Coronado Island in the summer. Live music can be enjoyed at the Coronado Ferry Landing every summer weekend through September from 2 to 5 p.m.
Savoring a Nice "Cold One"
If you have a penchant for uniquely prepared brews, a summer visit to Coronado Island can be justified thanks to the assortment of craft beer options throughout the area. You're also welcome to enjoy a more family-friendly "cold one" in the summertime here by sampling ice cream and other cold treats at MooTime Creamery.
Self-Guided Coronado Walks
Snap plenty of selfies and pics for your friends and relatives back home by taking a self-guided tour of Coronado Island at your own pace during your summertime visit. The Coronado Museum of History and Art also offers walking tours by reservation. One of these tours includes a visit to the historic Hotel del Coronado. 
The Hotel Del
Speaking of the Hotel del Coronado, Tripadvisor reviewers give this iconic structure four out of five stars. This historic landmark is another reason Coronado Island is the perfect place to visit in the summer. Even if you just check things out from the outside or stop by the gift shop, you'll appreciate the classic architectural style of this world-famous building.
The Food
From an assortment of international cuisine to local takes on classic burgers, pizza, and seafood, there are nearly limitless dining possibilities in the Coronado Island area. There are plenty of outdoor eating locations to explore as well, along with various eateries and restaurants that offer dine-in options. 
If you're planning to stay overnight or for a few days, check out the beautiful 1906 Lodge. Coronado visitors are pampered in style at this historic hotel, which Business Insider India named one of the 30 Best Boutique Hotels in America. If you're looking for a quiet seaside getaway with luxurious amenities and access to an array of fun activities, 1906 Lodge is your ideal destination. Many of our guestrooms feature private entrances, balconies, spa tubs, wet bars, and cozy fireplaces. Call us today at 866-435-1906 to reserve your room across the bay from America's Finest City.
◀ Go back