Top 6 Reasons to Look Forward to Your Coronado Trip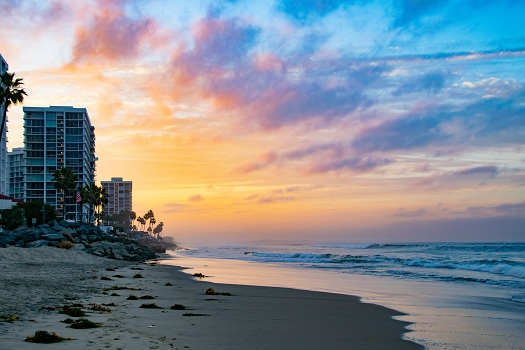 Located just across the bay from San Diego, Coronado Island is a charming, tranquil slice of Southern California heaven with abundant sunshine, incredible scenery, and an endless variety of fun activities. Here are just a few of the reasons to get excited about your upcoming visit to Coronado.
1. Spectacular Beaches
One of Coronado Island's greatest features is its gorgeous beaches. Nothing beats lying on the warm sand while soaking up the California sunshine. Start your beach exploration by visiting Central Beach, a stretch of paradise that's renowned for its gentle surf and gold-flecked sand. This beach is located along Ocean Boulevard, so it's right in the heart of town near a variety of shops, restaurants, and bars. 
If you're looking to stay near the beach for a night or a few days, check out the beautiful 1906 Lodge. Coronado Beach visitors are pampered in style at this romantic historic hotel, which is within walking distance of the island's main restaurants and galleries as well as the world-renowned Coronado Beach and Hotel Del Coronado.
2. Cultural & Historic Sites
Your visit to Coronado won't be complete without stopping at the world-famous Hotel del Coronado, which recently celebrated its 125th anniversary. The Del's iconic red roof offers just a small taste of the brilliance of its Victorian architecture. 
You can dive into Coronado's culture and history with a visit to the Coronado Museum of History and Art, where you'll learn about the town's colorful past and its relationship to aviation and the military. The museum also features a charming shop and a quaint cafe.
3. Relaxed Vibe
Coronado visitors return again and again because of the gracious locals and the island's laid-back vibe. After you cross the bridge or ride the ferry to this island paradise, you'll find it remarkably easy to leave all your troubles behind. Coronado offers the perfect retreat from hectic city life, and you'll be amazed at how quickly your worries melt away as you gaze at the breathtaking sunset over the Pacific Ocean. 
4. Mouth-Watering Food & Drink
If you're a foodie, you'll definitely appreciate the abundance of food and drink options available in Coronado. Start off by trying some of the area's fresh seafood selections. The most popular spots to enjoy the catch of the day include Saiko Sushi and Serẽa. San Diego is also famous for its authentic Mexican cuisine, so make sure to check out Miguel's Cocina for incredible Mexican dishes and mouth-watering margaritas. For a sweet treat, both tourists and locals love the MooTime Creamery at the Hotel del Coronado. If you're in the mood for sharing a pint or two with the locals, the Coronado Brew Pub is the place to go.
5. Outdoor Activities
If you love outdoor recreation, you'll be delighted by all the opportunities to enjoy exciting outdoor activities when you visit Coronado. In addition to cavorting in the surf and sand, you can enjoy golfing, parasailing, boogie boarding, kiteboarding, and biking, hiking, or jogging along the network of trails that crisscross the island. 
6. The Eclectic Ferry Landing
The Coronado Ferry Landing is the ideal destination if you're looking for casual or fine dining, funky art galleries, and unique shops. With the spectacular San Diego skyline as a backdrop, you can browse the stores for everything from souvenirs to beach gear and designer clothing. You can also explore the area by renting surreys, bikes, paddleboards, and kayaks. 
For Coronado visitors who are looking for a perfect seaside getaway with luxurious amenities and the feel of a Coronado Island B&B, 1906 Lodge is the ideal destination. Many of our guestrooms feature private entrances, balconies, spa tubs, wet bars, and cozy fireplaces. Call us today at 866-435-1906 to reserve your room on Coronado Island, just across the bay from America's Finest City.
◀ Go back